From the trailblazers who find new ways to connect their teams to the all-star enthusiasts who never miss coffee with colleagues, success frequently boils down to how a team brings its own flavor to their connections.
As your team ramps up planning for the year ahead, we wanted to share a few of the most interesting and exciting ways we've seen teams use Donut to create successful connections. That's why we're highlighting stories, tips, and tricks from our top 12 most successful users and teams of the year. Whether you're an individual contributor from a small startup or the manager of a globally distributed team, we hope you'll find some inspiration to level-up your pairings in 2020.

Enter: The Golden Dozen
We're continually amazed by the incredibly innovative ways our users are able to make Donut part of their company culture. Our top 12 users and teams — appropriately nicknamed, "The Golden Dozen" — are particularly great at forging meaningful connections with their teams. They're the individuals that completed the most Donut meetings with their colleagues in 2019 and the organizations that had the highest completion rates out of all the teams that use Donut worldwide.
In 2019, Golden Dozen individuals had an average of 38 Donut meetings with their teammates throughout the year. And Golden Dozen teams averaged nearly 1,000 completed meetings throughout their organizations, with 67% of pairings resulting in a successful meeting between coworkers. But that level of success doesn't just happen by accident. These teams have made an effort to regularly prioritize creating authentic connections because they know that the relationships you build have an impact on your experience and accomplishments at work.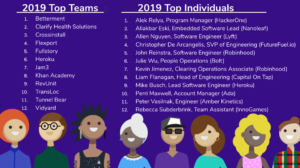 Since Golden Dozen individuals were the most invested in taking time to connect with teammates last year, we asked them to describe their most memorable Donut meetups of 2019. Their answers revealed an array of motivations for keeping up with it week after week.
Creating Authentic Connections with Leadership
One crucial factor to consider when thinking about how to keep your team connected is whether or not you'll include leadership, and if you do, how often they'll participate. It's no secret that keeping leaders tuned in to what is happening across the company can be tough. Continually changing schedules and competing priorities can get in the way, but many teams are overcoming these challenges by regularly matching up leadership and employees for casual conversations.
An added benefit of linking team members with leadership is that employees get to know their leadership teams in a new light. They have unique opportunities to ask big questions they might not otherwise be able to discuss.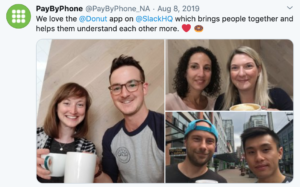 Alek Relyea, Program Manager at HackerOne, said the most memorable Donut meeting of 2019 involved a candid CEO chat. "I asked the CEO an open-ended question about his feelings toward our current projected growth, and all-around success as a company. He indicated he was very happy with the way things were going."
During their meeting together, Alek's CEO stressed that happiness "starts from within, nowhere else." It left a lasting impression that changed the way Alek thought about what makes a company successful.
"Without Donut, I likely never would have had that philosophical conversation about happiness with the CEO."
Remembering that the "Whole Self" Matters at Work
Another trend that emerged from chatting with our Golden Dozen is that people find joy in getting glimpses into the "whole person" of their teammates. Individuals can often be so goal-focused or siloed in their work that they don't honestly know much about their colleagues. By their very nature, Intros encourage employees to learn more about each other because they are spending time outside of a routine task to chat.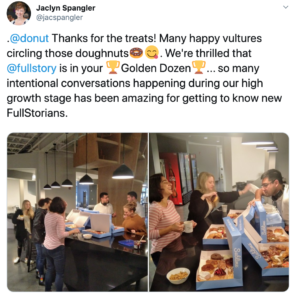 The smallest act of authentic openness and honest discussion during a meeting can have a significant impact on a colleague's day. For example, Kevin Jimenez, Clearing Operations Associate at Robinhood, said that one of the most memorable Donut experiences of 2019 was when a coworker brought her dog to the video conference for the remote meeting. It was a small but pleasant surprise that gave Kevin a peek into the daily life of a teammate.
Along similar lines, we've often heard people say that stumbling upon a shared interest with a teammate was a delightfully unexpected outcome of their meetings. Whether they realize they both enjoy playing ping pong or discover that they have similar taste in movies and TV, these small revelations open the door to lasting relationships at work.
Forging Friendships Across Time Zones
Many of the teams that use Donut have remote employees or globally distributed teams. As a result, these teams are increasingly relying on digital platforms and devices to connect across time zones. Without the serendipitous run-ins that tend to happen naturally when people all work in the same space, it can be challenging to encourage employees to get to know each other.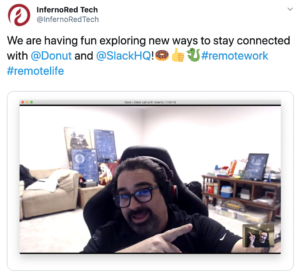 FutureFuel.io's SVP of Engineering, Christopher De Arcangelis, says that their fully remote team uses Donut to facilitate all of their conversations. Despite being a bit nervous to chat with new teammates each time, Christopher (a self-proclaimed introvert) keeps coming back to these remote coffee chats because of the outcomes.
"They have all been helpful and amazing. Just about every Donut chat, when I get to the other side, I am so happy that I did it. I always feel excited and energized, like both myself and the company are better off after the experience."
Gaining Perspective from Teammates with Different Levels of Experience or Career Paths
Although chats between teammates can certainly be purely social, many people reported that the most memorable meetings were the ones that allowed them to learn from colleagues with vastly different career backgrounds, roles, or experience levels.  When employees are presented with new perspectives outside their own, they're better able to consider the impact and interplay of different work styles, job responsibilities, and personal life experiences.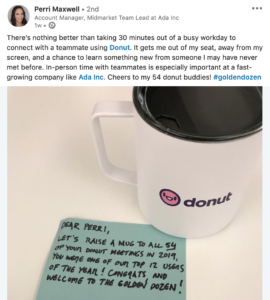 For example, Robinhood Software Engineer John Resintra's favorite meeting of 2019 was a chance encounter with a coworker who had over 20 years of experience in their field. "As someone who just joined the workforce, I loved learning about their work and life. I never miss a coffee chat because I love the opportunity to meet new people!"
Others loved being paired with brand new employees (both individual contributors and managers), as it gave them a chance to welcome the newest team members, gain perspective on the company from a fresh point of view, and expand their company network.
Ready to Level-up Your Pairings in 2020?
If your team is ready to achieve "Golden Dozen" status this year, there are several quick steps you can take to boost excitement and participation.
Send teammates a surprise compliment after your meeting
If you have a great chat with your teammate or learn something really inspiring about them, you can let them know by sending them a surprise message after the meeting. Just click "say something nice" and follow the prompt from Donut. We'll send your kind words to them halfway through the next round so they get an unexpected message reminding them of your meeting. It's a great way to keep the positivity going long after the meeting has ended.
Keep up with pairing history in the dashboard
For individuals: Sometimes things get hectic and people aren't able to meet until after a pairing round has ended. Now teammates can still mark those meetings as complete, even after the fact.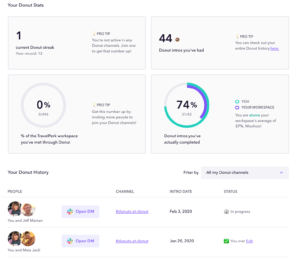 Just go to the personal pairing history in your dashboard and edit the status to reflect any updates. Bonus mode: challenge your team to go back and complete any incomplete pairings with teammates from the past!
For admins: Admins can get additional insights on their team's weekly stats (like who met and who didn't) from the dashboard. See how many people are matched from within your organization over time, how many start chatting and complete their meeting, who is unresponsive, and view feedback comments from the team.
Break the ice with quick conversation starters
Sometimes when teammates first get matched, they might be unsure of how to start their chat with a new teammate. Jump-start introductions by using Conversation Starters. Donut will ask a fun question (for example: If you could choose any person from history to be your imaginary friend, who would it be?) and after everyone responds, the group can reveal answers to spark fun conversations!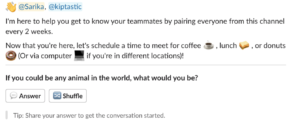 Some teams even add their own conversational prompts to their intro messages to help break the ice (if you could travel anywhere in the world, where would you go?) or pose reflection topics for discussion (what's one thing you learned while on our annual retreat?).
No matter how your team decides to build connections with Donut, we're excited to see what you achieve this year and find out who will make the Golden Dozen in 2020!