Mollie West Duffy, head of organizational development at RALLY (formerly organizational design lead at IDEO) wrote the book on emotions at work, literally. No Hard Feelings: The Secret Power of Embracing Emotions at Work was an instant hit at the Donut office. With sound logic, clear principles, and hilarious illustrations courtesy of co-author Liz Fosslien, Mollie taught us how to confront emotions in a professional environment.
Negotiating emotions in the workplace is a difficult proposition under any circumstances. Throw a worldwide crisis and a hurried transition into remote work into the mix, and you have a recipe for a nearly insurmountable challenge.
It all boils down to this: how can we embrace emotions at work during a difficult time? We know we're not the only ones struggling to find answers, so we invited Mollie to share her wisdom and experience with the Donut community–and we got so many wonderful contributions from you, too.
Read on for a recap of what we discussed (or watch the recording here).
Talking About Tough Emotions
Anxiety, sadness, distractedness – these kinds of emotions are not only normal parts of the human experience, but they're expected during a period of crisis. The problem? They don't fit the stereotypical definition of  "professional" on the emotional spectrum.
If we're all having these thoughts and feeling these feelings anyway, the conversation needs to shift to "how can we discuss them productively?" Teams that proactively acknowledge and address these emotions will be one step ahead of the curve in terms of displaying compassion and empathy, and allowing their teams to function at a high level despite real business and life challenges that are playing out across the globe.
Selective Vulnerability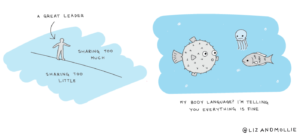 Mollie says the real secret to productive conversations about emotions in the workplace (anytime, but especially during a crisis) is selective vulnerability.
Doing selective vulnerability well means walking that fine line between acknowledgement ("I also feel worried – you're not alone in that!") and demonstrating leadership by finding a path forward ("Given the situation, here are the steps we plan to take to address it.")
5 Questions to Ask of Teammates
It's hard to know how to bring up emotions in the workplace, let alone deal with them. Checking in with teammates is a good thing to do, but it's important to do it in the right way. Balancing specificity and sensitivity helps. Mollie recommends these five questions as a starting point:
1. How can I/we/our team best show up for you right now?
2. What kind of flexibility do you/your family need right now?
3. What's challenging or surprising to you about working from home?
4. What have you learned about yourself?
5. How are you investing in your resilience right now? How can I support that?
Ideas from the Donut community:
"We start our meetings with everyone saying something they are anxious about and something they are excited about

." – Miki Johnson

"We've been doing a weekly self-care check in on Slack for many months! Different colored hearts to express how people may be feeling."

– Shelb
"At a recent meeting, we were asked to go around and say one thing that makes us hopeful right now. It helped us focus for a moment on something positive before we went into a meeting about difficult topics." – Morgan Tucker

"I've been approaching check ins by offering where I am at first to show vulnerability." – Allie Kovalik

Creating a Sense of Belonging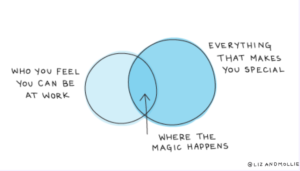 As Mollie stated during the webinar: "If diversity is having a seat at the table, inclusion is having a voice, and belonging is having that voice be heard." Feeling and actually being heard are imperative for everyday operations, and efforts to create belonging can't fall by the wayside as the economic landscape shifts. In fact, it's more important than ever to foster belonging as employees shift to remote work, support family and friends that may be ill or recovering, and navigate changes to business, personal, and household finances.
The good news? Lightweight efforts can have an out-sized impact on your team's sense of belonging. Here are Mollie's favorite micro-actions to bridge the distance and create a sense of belonging for teams now working remotely:
1. Take the time to pronounce and spell names correctly—and use them often in conversation!
2. Run informal social programming like virtual coffee meetups to build connections and maintain relationships.
3. When someone joins a call late, take a moment to bring them up to speed.
4. Create a shared remote celebration or activity calendar.
5. If someone is having connection or audio/visual issues, don't wait to jump right in to notify them—and ask them to keep sharing their thoughts.
6. Don't let feedback and praise fall by the wayside. Keep doing it!
7. Send physical mail to people's homes, like short notes, swag, or food deliveries.
Ideas from the Donut community:
"We had a pen pal sign up and included kids so we can match them with others their age. A good way to support parents/families." – Carrie Grogan

"

My sister's boss sent her a muffin and fresh OJ because my sis was about to start a big creative project, and she wanted her to have an extra morning breakfast boost!

" – Lisa Walden
"

We're working on Zoom with mic and video on for one hour each day. Not working together, just in one another's presence. It's lovely – and often prolongs past the hour.

" – Kumquat Consult
"

I've set up virtual coffee break and happy hour for my team to offer time to also not talk about work.

" – Shaelynn Hales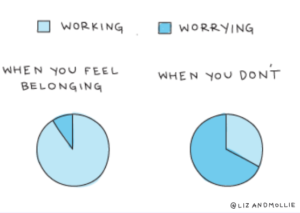 Staying Motivated Through Uncertainty
There are scores of essential workers right now: fields like healthcare, public transportation, teaching, scientists, electricians, and grocers are easily understood as essential. But what if your work doesn't fit into one of those categories? What part do you play? What actions can you take to make a difference in your own way? And how can you stay motivated in a role that doesn't feel "essential" right now?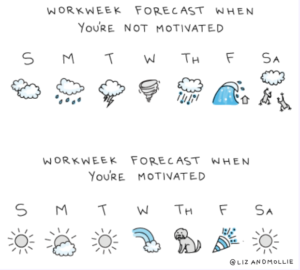 Start with some gratitude: who are the people you're grateful for? Mollie points out that she's leaned on her accountant to help her with taxes and changing finances, and had sessions with her physical therapist via Zoom. They might not meet the government's definition of "essential," but they're helping her care for herself and her household during a difficult period—and the impact of their expertise is very real.
She urges everyone to give what you can right now, regardless of how it might be received by "the market". This may be a time of chaos and transition, but that means it's a good time for experimentation—expectations are being shattered and routines are being upended, which means everyone is more open and receptive. Offer skills like dance or guitar playing to colleagues; take that experimental sourdough loaf to an essential worker to express your gratitude; use time at work for long-overdue projects. You might just be surprised by the response.
The Changing Motivational Landscape
If we looked at a list of pre-COVID-19 reasons for lacking motivation at work, it might look something like this:
You have no control over your work
You don't find what you do meaningful
You're not conceptualizing work as a place of learning
You don't like your teammates
Mollie's post-COVID-19 list looks a little more like this:
You have no control over your work the world
You don't find what you do meaningful for helping alleviate or end the pandemic
You're not conceptualizing work as a place of learning – it's hard to learn from others remotely
You don't like your teammates you miss your teammates
Overcoming these new motivational hurdles in crisis mode requires a different approach and tactics.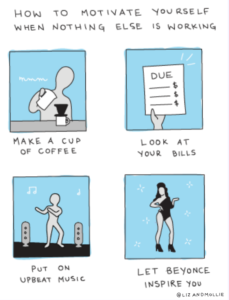 3 Steps to Stay Motivated
On that front, Mollie has three big recommendations for teams:
1. Focus on small wins. Harvard Business School professor Teresa Amabile calls this the progress principle: even ordinary, incremental progress makes us happier and more engaged with our work.
2. Connect your work to a compelling purpose. When a SpaceX employee who worked on the company's manufacturing floor was asked, "What is your job?" his response was: "The mission of SpaceX is to colonize Mars. In order to colonize Mars, we need to build reusable rockets because it will otherwise be unaffordable for humans to travel to Mars and back. My job is to help design the steering system that enables our rockets to land back on earth." He could have simply said, "I assemble parts," but he actively connected his role to the bigger picture and goal.
3. Invest in positive relationships. Offer to mentor a newer or younger colleague, or plan events like team lunches, game nights, or happy hours. Check in on someone who isn't feeling great, or offer compliments and positive reinforcement to teammates. Positive feedback loops are self-sustaining.
Ideas from the Donut community:
"

To combat the issue of 'no control over the world,' we're looking at charities in our area and trying to see how we can help so at least we can assist our communities." – Opheliar Chan

"R

e: learning from employees/each other, we have asked the everyone in the team to lead a 30 minute mini workshop. Some of them come up with ideas and volunteer; others I reach out to and ask. I like how this makes us feel like we are *all* responsible for teaching/sharing/guiding each other at times. Some things the team have led us in are: meditation, Wim hof breathing, hip stretching, 80s aerobics, cross fit." – Sara Krumminga

"

We launched a weekly newsletter highlighting COVID resources, fun activities we're hosting, monthly birthday and anniversaries and a blurb on what to focus on that week like 'thinking downstream' in our actions or 'marathon not a sprint' – it's helped to put things in one place and enhance communication

." – Allie Kovalik
Thanks so much for joining us, Mollie! And thank you to the Donut community for your ideas and contributions!
For more info and resources on emotions at work, head to lizandmollie.com or snag a copy of No Hard Feelings. Mollie is also available for talks and workshops – contact her directly for details.
Looking for a resource mentioned on the webinar? Here's a handy list: