The COVID Tracking Project began in early March 2020, when two journalists at The Atlantic, Robinson Meyer and Alexis Madrigal, needed more data for their investigation into the spread of COVID-19 in the United States. Given the minimal amount of data available at that point in the pandemic, they built their own tracker to aid the investigation. The COVID Tracking Project was born as a collaboration of journalists and volunteers, working together to gain insight into the unfolding pandemic.
Donut spoke with Asia Lindsay, Director of Community & Comms at The COVID Tracking Project, to learn more about how the organization has developed over the last four months and how she's fostering community among this team of over 300 active volunteers, most of whom have never met each other in person, and are the backbone of this urgently-needed work. 
A team of volunteers on a mission
Inspired by the community of journalists that she knew who were prioritizing this important work, Asia joined The COVID Tracking Project three weeks in. They quickly assembled an amazing group of volunteers, including people who took time off and sabbaticals to focus on the urgent project at hand. 
The project owes its complexity to the massive variation in data between sources: because each state publishes different data, there isn't one easy way to glean the national story. The volunteers work tirelessly to keep records up to date, compiling, cleaning, and annotating the state-specific pages to keep the data as accurate as possible. They began giving each state a grade, in terms of how well they were tracking the data, and knitted together the first comprehensive picture of COVID-19 in the U.S. Everyone began using their data, including the CDC and the White House.
The COVID Tracking Project is also responsible for shedding light on the racial disparity of COVID-19's impact on different communities. It was apparent early on in the UK that people of color were disproportionately dying of COVID-19, and so the group — including journalists like Ibram X Kendi, a leading scholar of race and discriminatory policy in America — made certain to track racial data in the US. With the recent surge in Black Lives Matter protests and keener interest in understanding and naming racial inequality in the United States, this data set has been particularly helpful for identifying a dangerous, racially based public health issue. Given the importance of The COVID Tracking Project's mission, it became critical to create great teamwork and collaboration among a group of volunteers, and to do it fast.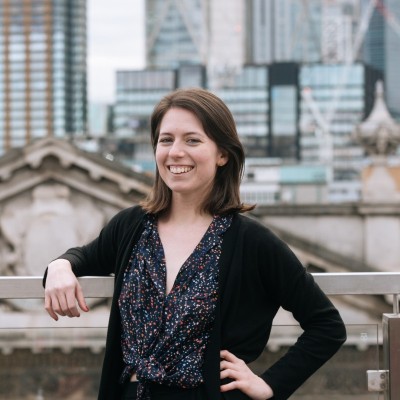 "Putting my community manager hat on, I asked myself: 'what's going to get people to continue doing this work?' Career growth, networking, and community, since we're still at home."
Asia Lindsay
The COVID Tracking Project, Director of Community & Comms
Creating virtual connections 
As the Director of Community, Asia knew that she needed a way to create authentic bonds among the volunteers, many of whom had never worked together before, or met in person. She brought on Donut, as she was familiar with virtual coffee programs from her time at past organizations. With the click of a button, she was able to create new pathways for people to connect and relate with one another, and the response was huge.
The COVID Tracking team is a unique bunch, as they are nearly all volunteers — many with other day jobs — who are motivated to do whatever it takes to track and understand the virus. "The team is very smart, totally remote, caring, ambitious, and keen to network," Asia said. "The caliber of people on the project is incredible. Putting my community manager hat on, I asked myself: 'what's going to get people to continue doing this work?' Career growth, networking, and community, since we're still at home." Asia's hypothesis was correct: their Intros have seen exponential growth, and week after week an enthusiastic pool of volunteers that meet up via Zoom and post recaps with selfies in the channel afterwards.
Enabling a fully remote workforce from scratch
Asia knew that she needed to ensure that new volunteers were set up for success from day one, in terms of having clear expectations, an ability to navigate resources independently, and a way to meet the right people at the right time. Especially in a world where everything is done remotely, and people are making time in their busy work schedules to do this vital volunteer work, she knew that it would be important to structure — and automate — as much of the onboarding process as possible. Using Donut's onboarding product, she focused on setting volunteers up with a steady stream of crucial resources, expectations, and connections within the organization, all delivered in Slack — all while capturing feedback in real time about the volunteer experience.
Asia told us, "the functionality is powerful, and we also love how customizable the onboarding product is — it comes with really helpful example formatting, and we've been able to make it our own by using gifs and other personal touches." This powerful functionality helps The COVID Tracking Project's leadership team understand engagement, ensure the onboarding process is effective, and that the right people are placed on the right projects.
Connecting to the mission
"At the end of the day, this is a group of volunteers," Asia said. "They are here to make a difference, and keeping them engaged in the project is crucial for getting the work done. Donut helps us connect this community that's craving connection. By keeping them engaged, we're helping the mission of getting data tracked."
The COVID Tracking Project is always looking for volunteers, and you can learn more on their website.