If there's one thing we know for sure, it's that good relationships in the workplace matter. But forming those relationships is easier said than done. In February 2020, we sat down with founder and author Josh Levine of Great Mondays and some intrepid brainstormers from the Donut community to explore the importance of rituals in relationship formation (see the recording and slide deck).
Josh calls relationships the synapses of culture, because they're absolutely critical pathways for connection and communication. These relationships are so important for productivity, engagement, and cultivating a positive workplace culture that teams can't just rely on organic relationship formation—they have to help their employees and colleagues overcome numerous barriers like shyness or awkwardness, geographical distance, and packed schedules.
In his work with hundreds of teams across the world, Josh has found that there are certain preconditions to successful relationship formation: shared experiences, personal stories, openness, and establishing commonalities (or at least curiosity over an interest). And what creates those preconditions? Rituals.
Rituals are recurring events or activities for your team that help build relationships. They can be explicitly planned and executed by the company (think holiday parties or quarterly team bowling sessions) or organically formed by colleagues with a mutual interest (like book clubs or bands). Planned or endorsed, large or small, embracing a variety of different rituals is the single best investment you can make in forming relationships for your team.
Here are some ideas from Josh and the Donut community that you can use for your team if you'd like to see.
Good for co-located teams
Weekly team lunch where day-to-day business talk is outlawed
Celebrating food-friendly holidays with an in-office buffet, like a nacho bar for National Tortilla Chip Day
Pizza Fridays
Curry and board game nights
Exercise or stretch groups that call people together for midday planking or yoga sessions (even just 5-10 minutes)
A basket of gift cards to a local café by the front door, up for grabs if you're taking a coffee break with a colleague
Friendly for remote teams
Weekly social time (30 mins) via Zoom with a conversation prompt like "What are your weekend plans?"
Coworking time via Google Hangout or Zoom
E-mailing gift cards for local cafés to remote employees for virtual coffee meetups
Virtual holiday party with a crowd-sourced Spotify playlist
Summer-themed Kahoot.com quiz with a prize for the winner, answers revealed during a virtual summer picnic
Conversation cards for virtual meetups
Quarterly "togetherness weeks" where remote teams work together from a central location
Adaptable for all teams
Monthly Fika breaks, a Swedish tradition of slowing down for coffee and conversation
Team walking challenges – ask teams to record their steps, and whomever has the most collective steps wins!
Creating a Fun Committee that plans monthly or quarterly events
Guitar Hero or Rock Band competitions
Teamwide volunteering activities
Share-a-skill lunch and learns, from mixing the best Bloody Mary to folding origami
Book clubs
If you're looking for a lot more wisdom on building culture and fostering happiness in the workplace, we can't recommend Great Mondays more.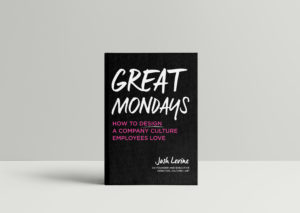 Have an idea for a ritual? Add it to our community-sourced list here.
Want to get more inspiration from members of the Donut community? Sign up for our newsletter, and we'll send you an invite for next month's Coffee with Donut session.