As a fintech company, you'd imagine that Betterment is a pro at dotting their i's and crossing their t's when it comes to people. And while they are that detail-oriented, their approach to people goes way beyond paperwork. Despite lightning-fast growth in their New York headquarters, opening second and third offices in Philadelphia and Denver respectively, and adding a number of remote employees to their staff, Betterment has managed to maintain the kind of community feeling they sought to build from the early days.
What's their secret? An emphasis on one important company value: "building relationships beyond the task." They view employees bringing their whole selves to work as a vehicle for solidifying and manifesting Betterment values—not a distraction. Building and maintaining a sense of community when you're growing so rapidly (and spread out over a number of locations) isn't easy, so we sat down with Pamela Do, Learning and Development Program Manager, to get her tips on how it's done.
On colleagues bringing their whole selves to work

Making time for travel—and sharing photos from trips around the world—is big at Betterment. So much so that when one employee posted in #donut-be-strangers (their whimsically-named Donut channel in Slack) about a recent trip to Taiwan, two other people planning trips to Taiwan chimed in and asked to meet up with their colleague to share travel tips. These travel tips work on a local level, too. Donut posts have become such a rich source of recommendations that Betterment is using them as a resource to create Betterment travel guides for all of their office locations—which of course makes in-person Donut meetups easier.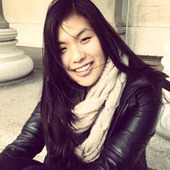 "If employees feel valued and part of a community, it has a positive impact on the outcome of the company."
Pamela Do
Betterment, Learning and Development Program Manager
Far from being a distraction, Pamela says that forming those kinds of connections is encouraged at Betterment: those bonds are evidence that employees feel safe bringing their whole selves to work. As she observed, "creating these connections has a great impact on people's well-being, and contributes to their everyday lives."
While a relationship may start with a trip to Taiwan (or a tipoff about the newest lunch spot), it doesn't end there: the interaction creates a sense of camaraderie that persists beyond the initial meeting, and forms a lasting connection that's useful for questions, challenges, and collaborative opportunities in the future.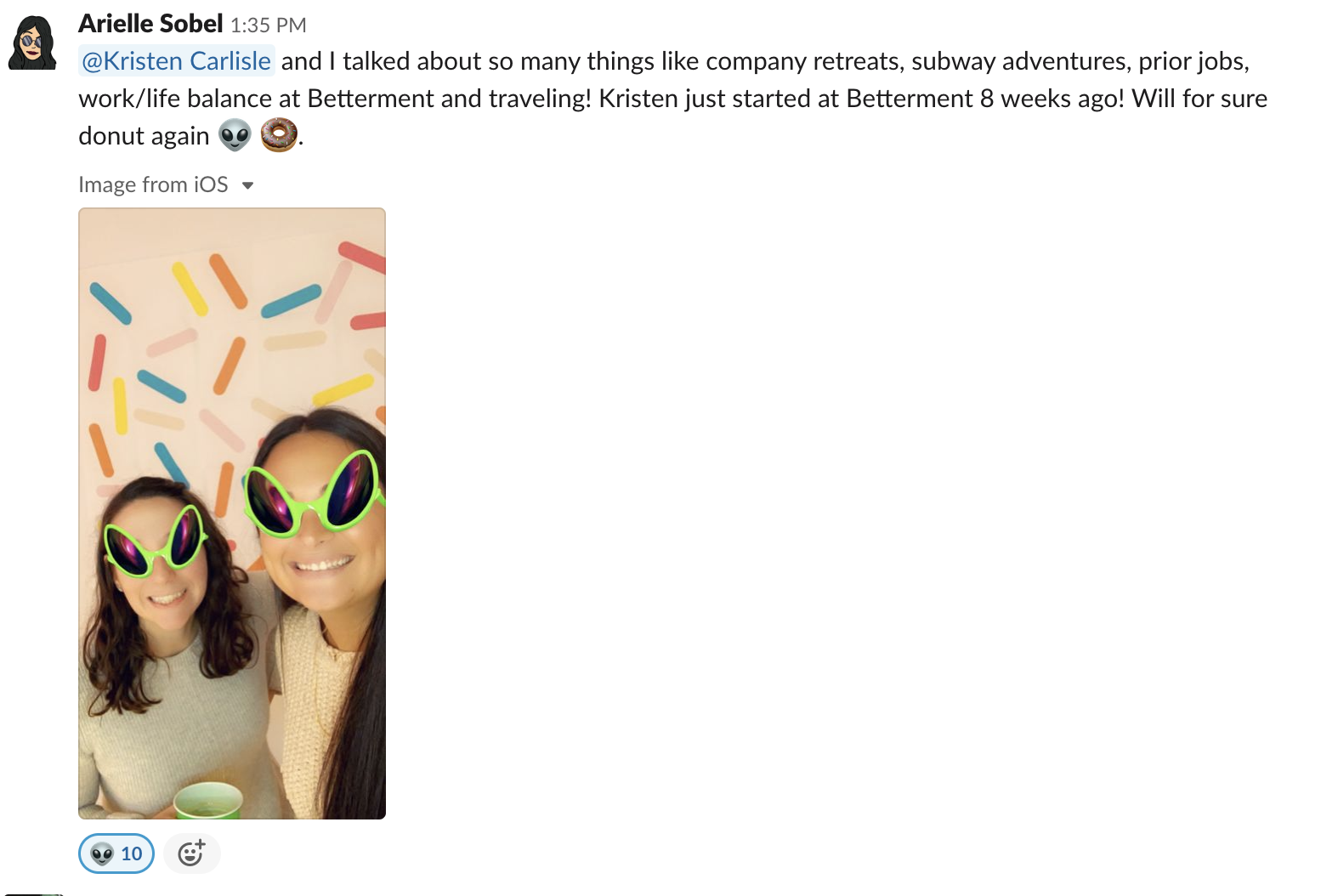 Because taking time out of the workday to connect with colleagues socially isn't just allowed—it's actively encouraged—participating in Donut coffee meetups has become an ingrained part of the culture, which means that employees sometimes don't even wait for an introduction to form their own interest groups based on what they've seen in their shared Donut channel.

Everyone is invited to join #donut-be-strangers, including new hires and remote employees. In fact, it's one of the first things they hear about on Day 1 of onboarding. "Including new hires sets the tone that Betterment values people, and that it's totally fine for you to grab coffee with the CEO or to meet up with someone and talk about something not directly related to work," says Pamela.
Introductions happen on the first Monday of every month, and meetings are purposefully unstructured. The idea is to have fun, meet new people, and talk about anything from their role to their home life or, yes, travel plans.
Best of all, these networks of relationships between employees has created a strong sense of community that's persisted even as Betterment has grown in size and become more distributed.
Betterment's recipe for connection success
Betterment launched Donut introductions two years ago, and since then they've learned a thing or two about how to set up a successful connections program.
"Donut is a part of our culture now. I can hear people talking about their meetups when I walk down the hall."
Betterment provides a budget for each pair's meetup, and a condition of reimbursement is posting a selfie into the #donut-be-strangers channel with a summary of what they chatted about. The selfie requirement started as a mandate, but Pamela reports it's been a runaway success, and colleagues get ever-more-creative with their posts.
The program is intentionally remote-friendly: If teammates aren't in the same location, meetups happen on Zoom and reimbursements are still offered. Sometimes colleagues in different locations will both take their laptops to cafés for a virtual cheers—and of course they submit an impressive array of selfies, too.
Expanding the meaning of connections
Though Donut introductions were originally launched as a company-wide get-to-know-you initiative, the enthusiasm for connecting with colleagues in different contexts and for different purposes has been contagious. Case in point: an affinity group specifically for women in engineering created their own Donut channel, and started to do separate monthly meetups. Having purpose-driven meetings within the affinity group has made "powerful connections for both them and the company," and helped foster an environment of support and mentorship.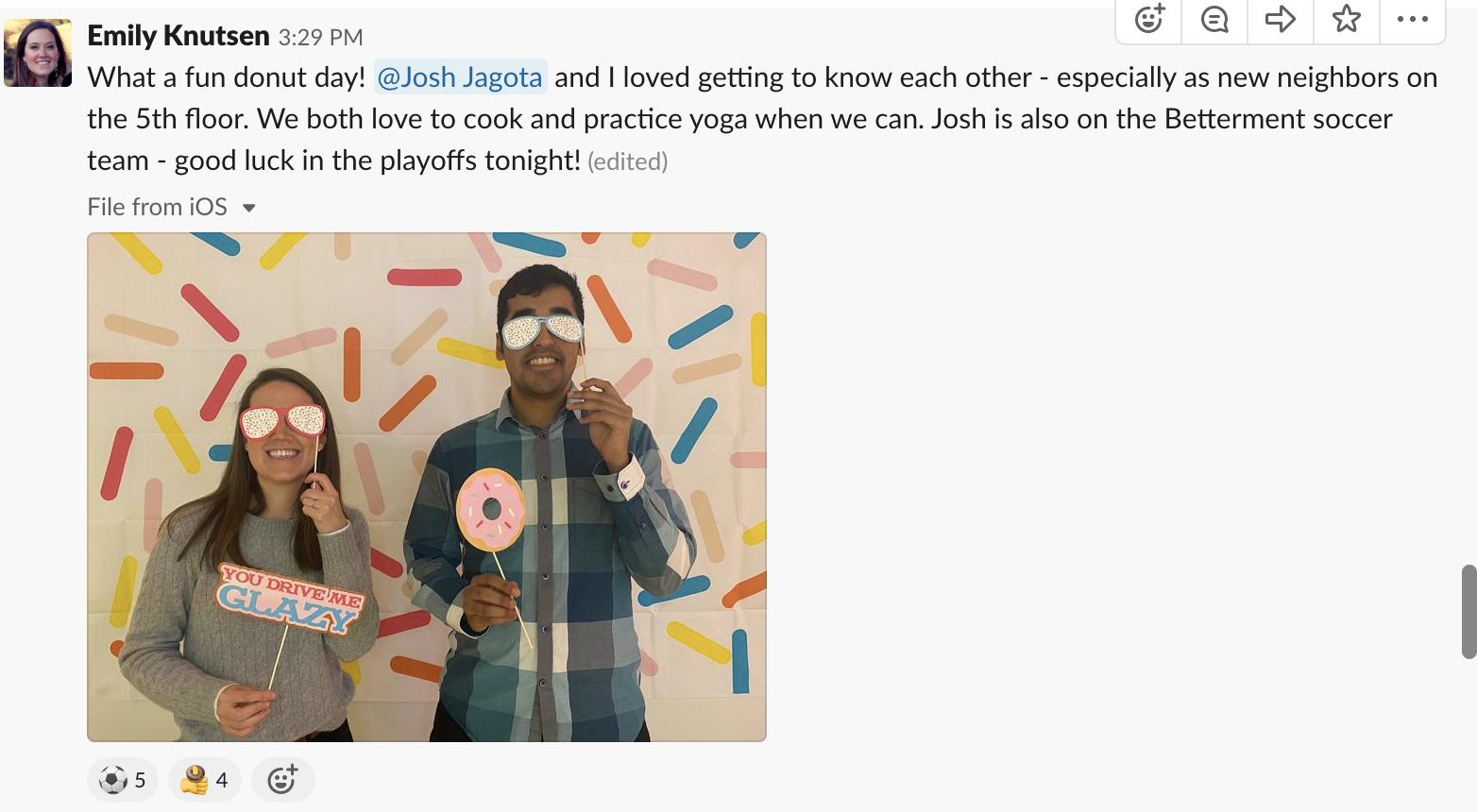 When it came to this year's BetterU Day (a biannual professional development day), Pamela decided to leverage Donut connections to create peer-to-peer learning opportunities. Colleagues were matched based on interests in a particular topic, and encouraged to meet on BetterU Day in the Donut Lab, which was stocked with whiteboards, hot chocolate, a custom selfie station with props, and donuts of course.
On reaping the value of connections
Today, nearly 80% of Betterment participates in Donut meetups, and their number of meetings is only set to grow as the company continues scaling. Though Pamela didn't know what to expect when they first launched Donut, "it's become a staple program that's exceeded all of our expectations," especially through a period of rapid growth and a transition to remote work.
The real outcome? "It's created a community," not just a company.