Building community is ingrained in Buffer's DNA The beloved social media management platform is used daily by thousands of marketers, ranging from freelancers to in-house marketers at large brands, to social media strategists at agencies. What makes it so beloved? Its features are great, but its values are exceptional. Buffer lives and breathes community-building and transparency—and a natural outgrowth of that philosophy is their Slack-based community.
For over three years, Community Strategist Arielle Tannenbaum has been tasked with building relationships amongst users. More specifically, she's bringing users together while facilitating their growth as marketers, and in turn unifying the Buffer team with the community at large. It's a virtuous cycle of knowledge-sharing, growth, and feedback—and it's 6,000 members strong.
Here, Arielle pulls back the curtain on how to build membership without sacrificing value, and what it means to create a sense of belonging for members no matter their experience level or location.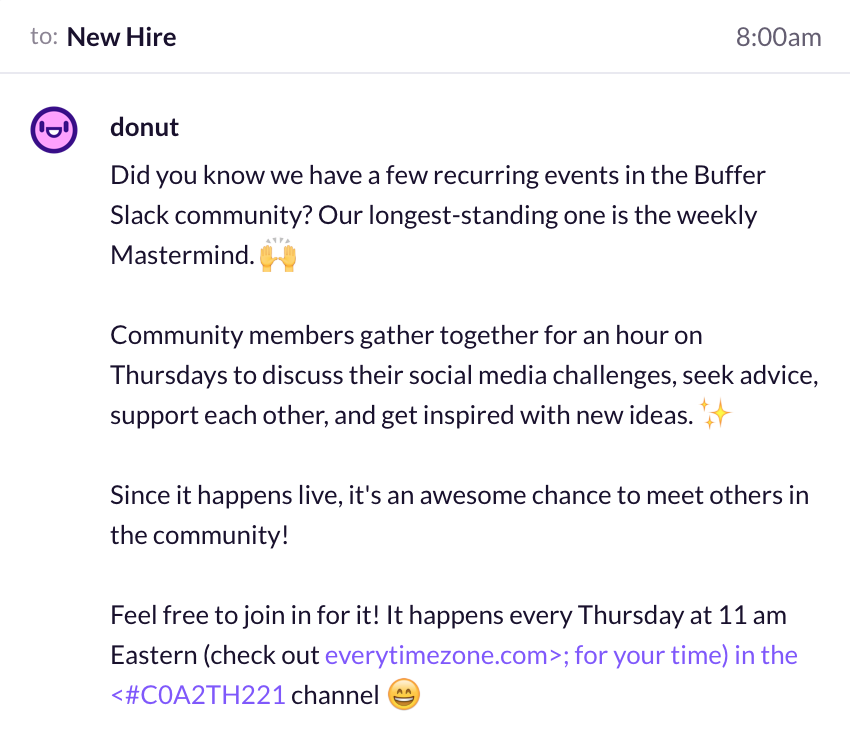 Traditions Build Community
Buffer's Slack community hosts weekly "Mastermind" sessions, weekly introductions for new members, and a weekly goal setting event. They also host a monthly "Community Coffee" where members have the opportunity to video chat and put a face to fellow members' Slack handles. This cadence of weekly and monthly events means there's always something for members new and old to attend, and always something to look forward to the following week. "As the years go by, we kept adding new events, traditions, rituals—new things going on with the community."
What's the best way to share communications around community traditions, particularly with new members who could easily become overwhelmed by an onslaught of information about weekly events? Arielle uses Donut to onboard new community members, gradually educating them about regular events and inviting them to participate in the community in new ways. By keeping community events consistent and encouraging the involvement of new members in a gradual way, Buffer has been able to facilitate conversations that go well beyond brainstorming a new Instagram strategy. Members are sharing the struggles they are going through at work, offering job search advice, and even showering each other with encouragement when needed.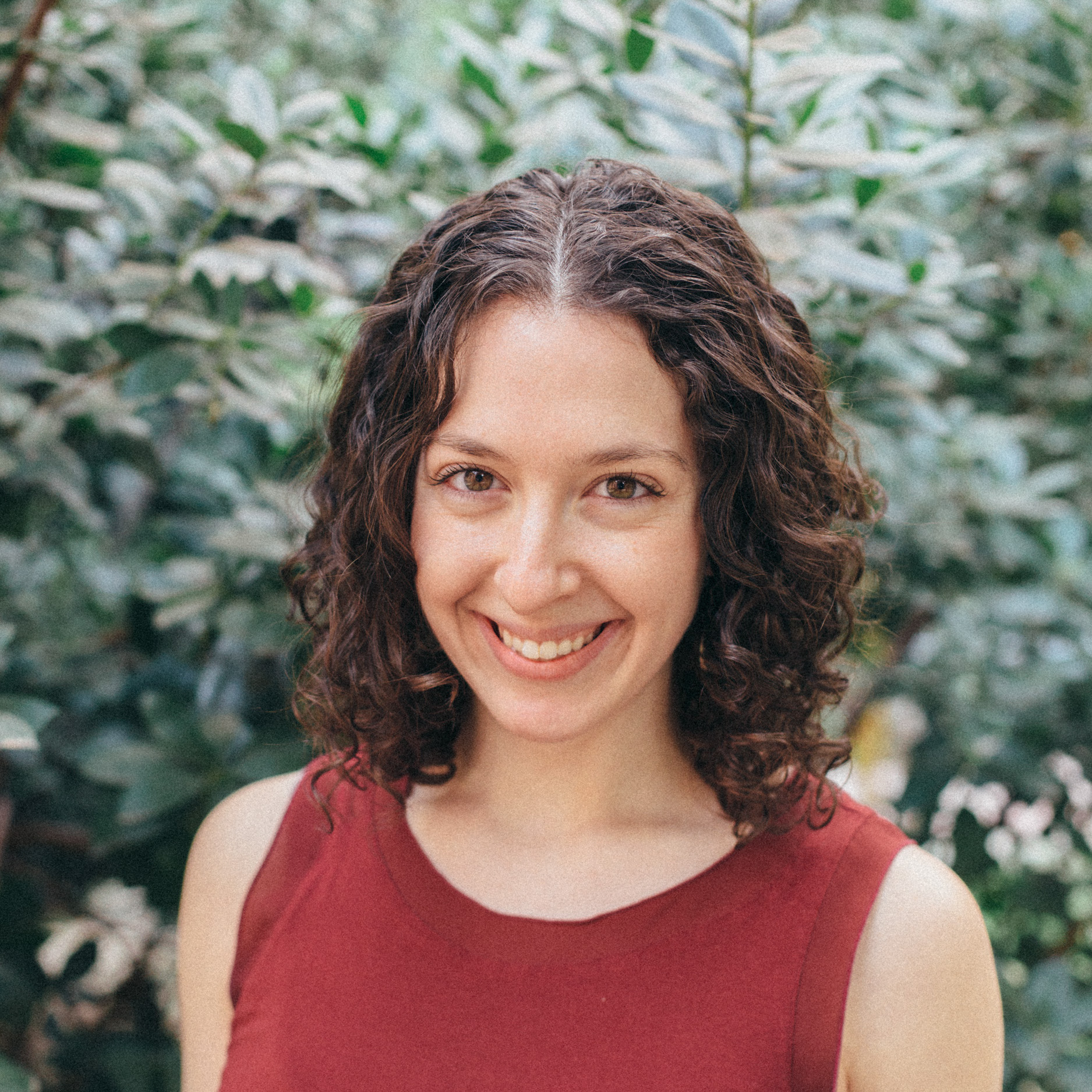 "It's not enough to build a community. It's active and human. You have to keep putting energy into it."
Arielle Tannenbaum
Buffer, Community Strategist
Grassroots Community Management
Rather than utilizing a more traditional set of community moderators, Buffer runs a leadership program known as "Community Hosts." Every six months, Buffer brings on eight new community members to organize events, host weekly masterminds, and welcome new members. In this way, "power users" are encouraged to contribute even further to the community while activating newer or less involved community members.
The Community Hosts program reflects Buffer's strong belief in the cyclical nature of online communities. "There are always members posting for the first time, others becoming regulars and checking in every day and others who want to step in as a leader. There are also people who have gotten what they need from the community and have fallen off. There's always a cycle." Rather than focus solely on acquiring new members or empowering community leaders, Buffer invests in all stages of a community member's journey—trying to activate and mobilize users at whatever stage they are in.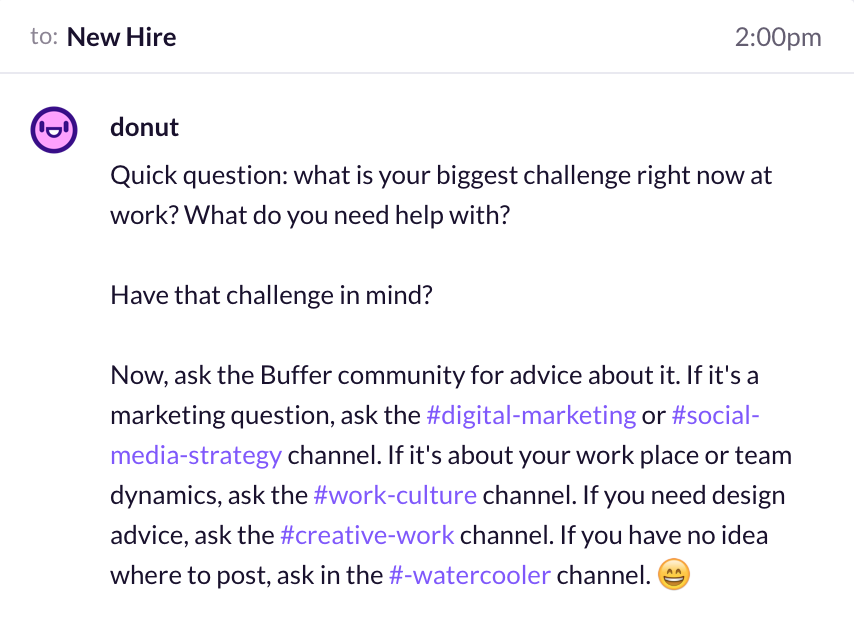 Community Values that Resonate
It's not easy to bring 6,000 people into a room and say they share the same values, but that's exactly what Buffer has accomplished with their Slack community.
Buffer is vocal about its company values—writing extensively about cultivating positivity, showing gratitude, being transparent and taking time to reflect. This openness has attracted Buffer's "tribe," a group of marketers who crave interactions with like minded individuals who emulate those same values.
Arielle says: "I feel very grateful to be building this community. Everyone is so kind, supportive and positive. What's so special is: We don't have to ask people to be positive, supportive or nicer to each other. Everyone has that foundation and it's incredibly unique."