We always love hearing success stories from customers who have made the transition to remote work, and Hypercontext is truly thriving. Their last two years have involved an unexpected shift to fully remote work, a major rebrand, and ultimately a decision to stay remote in perpetuity. We wanted to understand their playbook and open-source what's worked for them, so we sat down with Brennan McEachran, Co-Founder & CEO. The interview below is slightly edited for clarity & length.
Tell us about your team before the pandemic. Did you have multiple offices or geographic locations? Was anyone remote?
A lot has changed for us since the pandemic started — we even have a new name! (previously Soapbox). Prior to 2020, we mostly worked from our Toronto office with 1 WFH day a week, which we called "Wired in Wednesdays".
So even before the pandemic, we were gradually shifting to a more remote work set-up. We started to see the benefits of our platform for remote teams, and we wanted to "eat our own dog food" (tech speak for test on ourselves) with the advice we were giving our customers. So in 2019, we started offering more and more remote days per week for the team.
This was part of my Cofounder Graham's internal post after we added in the second remote work:

Every month we'd add 1 new work from home day per week. After each new addition, we'd take a survey to see if it was something that our team enjoyed. No surprise that they preferred the flexibility (I did too).
The questions we asked in our surveys included:
Did you enjoy having a [second, third, fourth] WFH day?
How do you think these WFH days have affected team productivity?
Did you encounter any issues while working remotely?
Would you like to add a [third, fourth] WFH day?
Any other feedback?
Leading up to the pandemic, we officially gave up our office space. We've been remote ever since, with no plans of going back into an office.
Now our team of 20 is 100% remote. And we've experienced a lot of benefits that come with that shift. For example, we're no longer bound by physical location. We've since hired more heads on the engineering and marketing teams, many of which are located in countries like Colombia and Chile. And my Co-founder, Graham, even moved across the country!
How did you stay connected before the pandemic? What was the company culture like when you were in the office?
I have to admit, keeping the team connected was a lot easier when we were in the office. It happened more naturally. Being together in person every day, there were endless opportunities to get to know each other.
A core part of how we stayed connected and aligned as a team was through the following consistent recurring touchpoints (most of which we've been able to adopt virtually as well):
Weekly 15-minute company-wide Town Hall: I share company numbers and progress towards our goals and any important news
Bi-weekly 1.5 hour company-wide demo day: Every team has the opportunity to present their work and what was shipped to customers over the last couple of weeks
Team meetings: Frequency and length are dependent on each respective team's needs
One-on-one meetings: Weekly, bi-weekly or monthly syncs between team members and their direct managers to talk work, growth, communication and motivation
Skip-level meetings: Monthly or bi-monthly 1:1s between employees and senior leaders for greater company-wide visibility
Annual retreat: Activity and team-building focused retreat near Algonquin Park in Ontario (this has been hard to do with the pandemic, but looking forward to getting back to it when it's safe to do so!)
How did you stay connected during the lockdown?
During lockdown, you could sense the stress that the team was facing. There was a lot of uncertainty. To help ease some of the tension across the team, we made some new additions to everyone's day-to-day. In addition to the recurring touchpoints previously mentioned, we also:
Embraced a mix of synchronous and asynchronous communication. The majority of the team was within the same time zone so synchronous communication was naturally going to occur (plus there are times where it can't be replaced), but to respect peoples' time, especially those who were working from home with kids, we defaulted to an async-first culture.
Introduced a daily morning and afternoon coffee chat. This was an open invitation at the same time every morning and afternoon for anyone who wanted to take a break and chat with others on the team. I think this helped everyone continue to build connections and feel less isolated.
Introduced Donut. To encourage one-on-one coffee chats and help the team get to know each other better on an individual level, we used Donut. Every two weeks, each member of our team was paired with someone new for a coffee (or donut!). This was especially great for the new employees who started remote and didn't have a chance to meet everyone in person. Donut has helped reinforce the culture of connection, forged new bonds across teams and reinforced existing relationships, and supported our asynchronous-first communication culture.

Run a bi-weekly "Narwhal" event. At every other demo day, an employee who's been awarded the "Narwhal" passes on the torch to a team member who they felt embraced our values the most during that month. Think of it as a peer-driven employee of the month, but better. Part of the Narwhal's duties is to organize one team-building event each sprint (every 2 weeks). This has been a great way for the team to connect on a more personal level. Some examples of narwhal events include:

Trivia
Musical bingo
Scavenger hunts
Jackbox.tv games (a team favorite!)

Minimized private messages. To help foster a culture of trust and transparency, we encouraged more conversations to happen in public channels. This was an important shift as we wanted to make sure that all communication across the company was open and visible to all team members.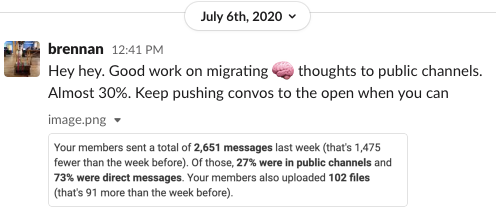 All of these initiatives have played an important role in helping us stay connected as a team during a difficult and strange time.
Tell me about your culture today, as you're working remotely and across multiple geographies?
Like most companies who've moved to remote over the last 1.5 years, we've had to make a pointed effort to stay connected as a team and not lose the culture we built in-office. Luckily with the technology available, we've been able to effectively move almost all of these touchpoints that we once did in person online.
At Hypercontext, we take these sync-ups seriously — they've helped build the foundation of our culture. And as a company that builds products to help managers lead their teams better and more effectively, whether it be through our one-on-one software or goal tracker, we strongly believe these touchpoints help build an environment where people feel psychologically safe so they can do their best work and be themselves.
The culture that we've fostered on the team is really focused on four main pillars:
Build trust
Win-win don't lose
Be a good human
Let the best idea win
As a founding team, we want to ensure that we're providing a positive work experience for the team while also pushing to meet business goals — no matter where people are working from.
How are you staying connected now that things are opening back up?
As a result of the surveys we've done in the past and continue to do with some frequency, we're staying remote for good. So, the practices we've adopted through the pandemic to stay connected will remain the same.
Beyond that, we'll be running annual company-wide retreats to ensure that we're able to build more connections across the team in a face-to-face setting. Because that in-person team building can never be fully replicated online. Plus, who doesn't love bonfires, right?  😊
But we'll continue to survey our team to get pulse checks on what's working and what's not. Especially amidst the great resignation, it's important to listen and adapt as necessary.
Let's talk more about connection: any fun Donut stories, rituals, or tips?
(PSA: if you're not already using Donut, you can add it to Slack with one click.)

Donut was an initiative started by our health and wellness committee, Brainbox, a few months into the pandemic to foster greater connection.
Every two weeks everyone's paired with a "coffee buddy" and they find a time to meet and catch up — like would happen naturally in an office setting.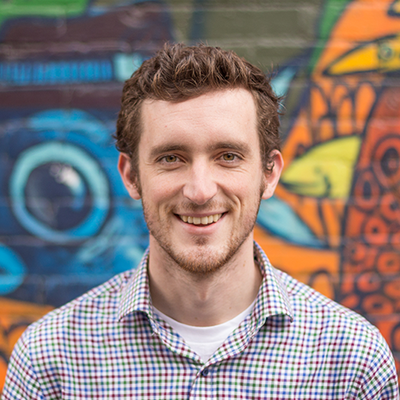 "Especially after we made a few new hires, it's been a great way for people to meet coworkers who they may not connect with through the work they're doing. Plus, it forces us to make time for non-work-related conversations — which can often be overlooked but are an important part of building a positive work environment that people enjoy showing up for. "
Brennan McEachran
Hypercontext, Co-Founder & CEO
Anything else you want to share about Hypercontext's culture – what's next?
The culture we try to continuously build at Hypercontext is one of trust and feedback sharing (both constructive and positive). We've found this starts with one-on-ones. When people feel like they have a safe and dedicated space to speak with their managers or peers, everything else becomes easier and more comfortable. And really that's also what our product's all about. A space to have those meaningful and productive conversations that fuel a better culture and, in turn, more productive work! You can't isolate one from the other.
As we move forward, we hope to help other companies and teams create what we continue to hone at Hypercontext — a more inclusive, safe, high-performing team through better meetings, clear goals and high team morale. 🚀
***
Hypercontext (prev. Soapbox) is an app built for people managers looking to have more productive one-on-ones and team meetings. Teams are able to create shared agendas, take meeting notes, collect feedback and assign next steps all in one place. With Hyperconteext, you don't need to leave the tools you love to start having better meetings. Integrations include Slack, Microsoft Teams, Google and more. Learn more about Hypercontext.