In the weeks and months following the onset of the COVID-19 pandemic, some companies have struggled to adapt to a virtual workplace, while others have shown up as leaders in remote work employee experience. Okta represents the latter. A company that has always decisively acted to prioritize the employee experience, Okta has devoted time, resources, and programs that make remote work, work for everyone.
Donut sat down (virtually, of course) with Natasha Vo, Global Employee Experience Program Manager at Okta to learn more about their employee experience programs, remote workplace, and Donut pairing programs — and more. (Spoiler alert: if you'd like to put Okta's virtual coffee program in place at your organization, you can launch it with one click here.)
Below is a transcript of our conversation with Natasha Vo, edited for clarity and length.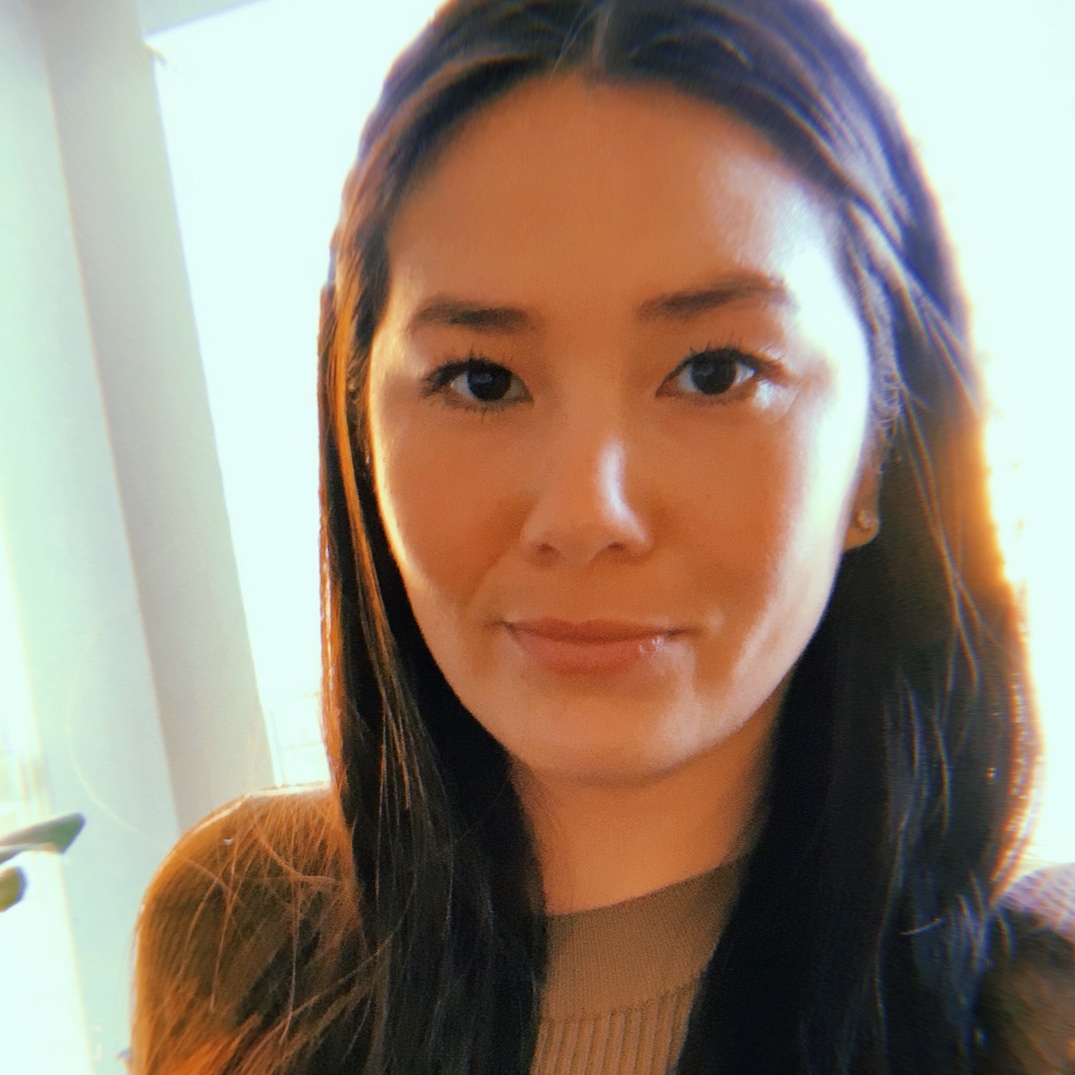 "I love that Donut's random pairing mirrors exactly what we're trying to do across other employee experience programs: bringing people together."
Natasha Vo
Okta, Global Employee Experience Program Manager
To get started, can you tell me about you and your role at Okta?
I oversee our Employee Experience programs globally. At Okta, that's made up of wellness, events, and community, so I work very closely with other teams: People, Diversity, Inclusion, and Belonging (DIB), Social Impact (Okta for Good), and Internal Comms. Our employee-facing teams are really integrated and every employee touchpoint ties together.
It's been crazy these last few weeks, but I have to say that one of the good things about the difficult moment we're in is that I've been able to stretch my creative muscles, try new things, and build real community.
What does Okta's team look like today? Where in the world are you?
We're spread out all over the world! We have 12 offices globally with our HQ based in the Bay Area and about a third of our employees are remote. Because we have so many different types of employees in different locations, we're careful to build equitable employee-centric programming that works for everyone regardless of where they work.
That's amazing. With the team so spread out, I imagine you were a bit ahead of the curve when the novel coronavirus hit and everyone had to rapidly shift to remote work. Did you have remote culture programs in place before coronavirus?
We did, definitely. Our team has been working on a Workplace model called Dynamic Work for the last year or so. The thought is to support employees no matter where they're working; in an office or not. With the COVID pandemic, these efforts have been accelerated, but the idea is still the same: Empowering employees by giving them the tools and resources to succeed and to connect and build significant relationships within the Okta community, from wherever they are located.
We also encourage remote employees to coordinate their own meetups. There are higher engagement numbers when the events feel organic. It makes sense, right? Employees plan something themselves, they know what they want to do; resulting in greater participation. These meetups are supported and paid for by Okta.
I love that you are clear on your success metrics, and measuring the impact of employee programs! What are you doing now to bring people together, in this new world of 100% remote work? How do you bring people together?
That's a big part of why I brought on Donut, actually! When everyone was scrambling at the beginning of March, culture was the most pressing question. What tools are going to give 80% more impact with 20% effort? Especially bringing on new tools and programs in an uncertain time, ROI was essential, so my focus was on finding ways to maximize employee impact.
I love that Donut's random pairing mirrors exactly what we're trying to do across other employee experience programs: bringing people together. Plus, the employee experience is easy and delightful: employees don't need to download another app. It's effortless to opt in, and seamless to use. (As an admin, it was also super quick to implement: 3 clicks to set up, and easily customizable with our messaging and preferences.)
Well, thank you! That's so nice to hear. We love Okta, and we're especially excited about how you've set Donut up to bring your employees together and support your culture. I think other teams can learn a lot from you! Can you tell me more about your #social-random-coffee Donut program? How does it work, and who participates?
Donut was really awesome in helping customize our pairing programs. I wanted to set up two different pairing options: Random pairing and Lottery. We have the Random Coffee pairings happen every other Monday at 10 AM PST. Okta employees are randomly paired with one another. They set up a time to meet for 15-30 mins to chat and get to know one another. I've encouraged people to use the "Avoid Teammates" app feature to ensure they're being paired with an employee they wouldn't normally get a chance to interact with (different team, different office, country, etc.).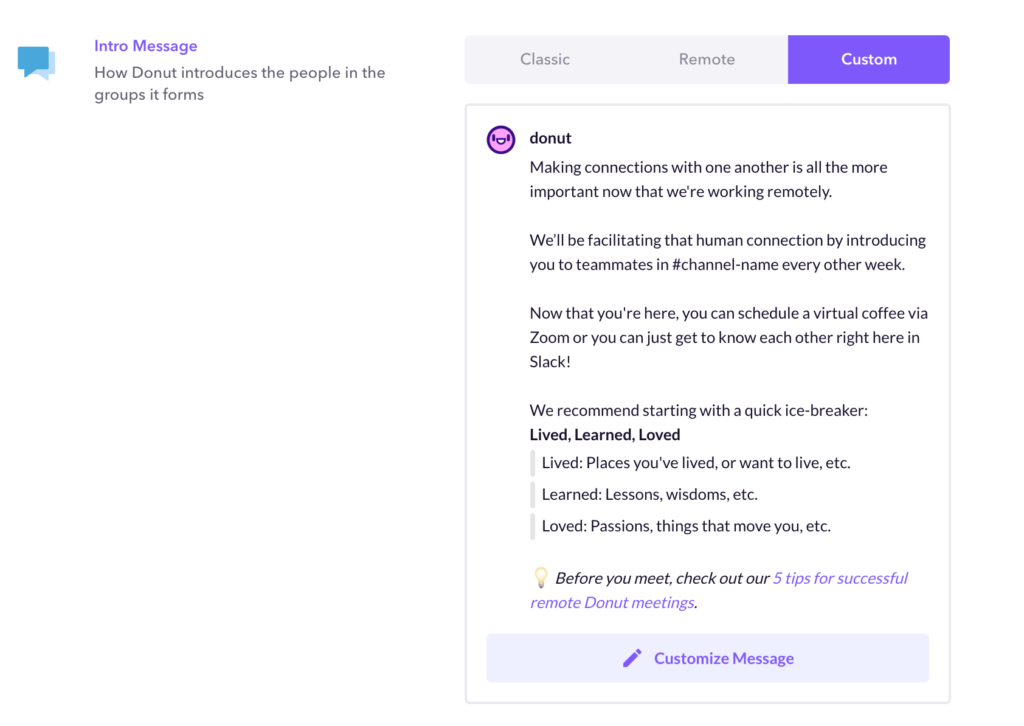 The second pairing program we have set up in the channel is the CEO Coffee Sweepstakes! Our CEO loved the idea and he suggested we do the pairing every week. So every Monday at 10 AM PST one lucky Okta employee gets paired with our CEO and gets to chat for 30 mins over Zoom.
I love your ice breaker. It's so creative, and thought provoking. Can you tell us more about it?
Definitely; Donut allows you to update the intro message when pairs are set up, and we really want people to talk about things beyond just work (though that's of course an important commonality and a good place to start for a lot of people). Our Lived, Learned, Loved icebreaker gives people a way to go one step deeper and uncover areas of discussion, even before the conversation. Lived means: Places you've lived, or want to live, etc. Learned means: Lessons, wisdoms, etc. Loved means: Passions, things that move you, etc.
Do you think Donut has been successful for you, and if so, why?
I do think this has been a successful program. We have 62% employee participation with Donut, and I owe a lot of the success to the presence of our CEO lottery program, in addition to virtual coffees. The executive participation in Donut is tremendous, and has really moved the needle in terms of awareness, consideration, and participation. We had a good initial response to the rollout, and then when we announced the CEO lottery, participation more than doubled! We've blown through our participation goals in a few short weeks. *knocks on wood*

Executive participation is everything! Shifting to the personal for a moment: have you had any notable Donut experiences you'd like to share, or have you heard any memorable stories from your team?
I have a really lovely story, actually, about my Donut with my colleague Alex. He's a Sales Manager in Chicago and I'm in the Bay, so we most likely would not have had significant interactions, if not for Donut. The conversation started slowly — we were just getting to know each other, so we discussed work, as you do. It was a mutual jumping off point (and reinforced for me why these intro prompts and tips are so important)! We then started the next safe conversation: What we've been watching on TV during quarantine. It turns out, we're both massive fans of The Wire, and the conversation took off from there.
Alex was someone I probably wouldn't have known, but now we have an authentic connection (and send each other Wire gifs). These connections will provide opportunities for better working relationships and a more fluid workplace. I now have a real connection to the Chicago Sales team that I didn't have before.
That's incredible, and I love how you found a real, authentic connection from just one conversation. As you think about what you've done with Donut, and what you'd like to do next, is there anything else you'd want to share with other companies? It can be about Donut specifically, or any remote culture-building program.
First of all: executive participation is everything! Find leaders in your organization who will reinforce why this is important.
I'd say also that you want your message to be concise and impactful- articulate your WHY. What's the point of the program? Help people understand why this is relevant and interesting for them. For example: "Are you craving human connection right now?" Something like that.
Finally: Give employees flexibility and choice in how they participate, and make it as easy as possible for them to take ownership. I like that admins can customize Donut's pairing frequency for employees with just one click, so they have the option to be as connected as they want to be. There's so little at stake for them, and everything to gain!
***
Learn more about Okta's virtual coffee pairing program, and try out their template with your team today!