It's been two and a half years since Engineering Director Emil Sit joined the Toast team. In that time, Toast nearly doubled the size of their engineering team, and expanded their geographical footprint beyond Boston HQ to include an office in Dublin. In other words, after navigating the expansion of a trans-Atlantic engineering team to 100 people, Emil is no stranger to the challenges that come along with rapid growth and supporting a remote workforce.
How exactly does one go about formulating an onboarding playbook specifically designed to ramp engineers quickly? What about scaling and maintaining productivity across new relationships and time zones? Emil accomplished it with a laser focus on building an impactful onboarding process—and true to his engineering roots—by innovating and automating along the way.
Automating and Systematizing
Early in Toast's history, a new engineer would get themselves set up by following instructions in a giant Google doc. This was an error-prone and hard-to-maintain process that could take days for a new engineer to complete, and so Toast quickly turned to automation to streamline the process. Engineers at Toast built scripts that would automatically download and configure key software, as well as check out and build common parts of the Toast software stack. Once they automated setting up the dev environment, the Toast team turned their attention to gaps that existed around other aspects of an engineer's onboarding.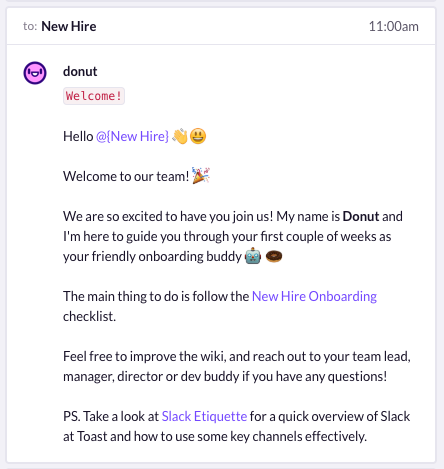 Onboarding for new hires goes beyond just tech setup: it also involves basics from finding a place to sit to being added to a variety of mailing lists. It's also important to establish check-ins with a new hire to ensure they are ramping effectively. Emil realized that all of these steps were only being done in an ad-hoc way, so he started to put together a "manager's checklist for new hires" on a wiki page. This helped establish alignment between departments like HR, IT, and different levels of engineering leadership around what should happen with each new hire.
As the team continued to grow, Emil and his team realized that there are many more things for a new hire to know that aren't even covered by checklists. These include things ranging from which refrigerator to store their lunch in, to best practices for filtering email inboxes, to how a company manages releases. In order to systematically include this kind of knowledge in the onboarding process, Emil turned to automation as well. With Donut, Emil was able to combine the manager's checklist and other tips into a complete "drip campaign" that sends critical pieces of information and reminders to new hires as well as managers and other stakeholders via Slack. These messages could take full advantage of Slack to assign tasks to people, introduce a new hire to important contacts, and even do simple polls.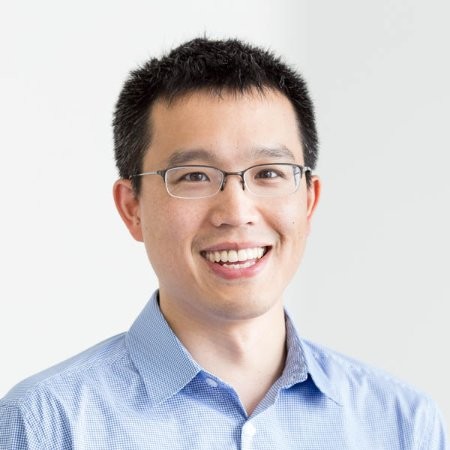 "The kind of onboarding you build will vary based on company size and culture, but one key thing to do is eliminate as much as possible that stands between Day 1 and making a contribution."
Emil Sit
Toast, Engineering Director
Providing Valuable Information
For an engineering team, setting up dev environments and taking a tour of the code base are musts—but they're just the tip of the iceberg of effective onboarding. These role-specific pieces of information are critical to setting up new hires for long-term success, but it's equally important to give attention to other aspects of the onboarding process that set up a support network, create feelings of connection, and set the new hire up for long-term retention.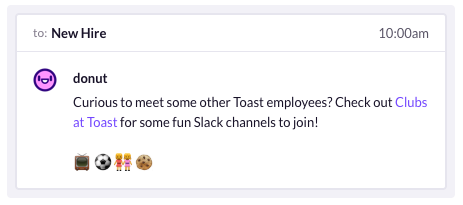 Toast made their onboarding process ultra comprehensive by including information on aspects of life at the company that hold tremendous value, but might be hard to figure out without some guidance. Case in point: linking to the vacation policy, and sharing a list of special-interest clubs for employees like running. They also encourage engineers to work cross-functionally with other teams and build empathy for end users by including invitations to shadow support or ride along to a restaurant for a POS implementation.
This valuable information is all stored in wikis, and links to these wikis are distributed by Donut to new hires. Keeping the information in a central place accessible by everyone ensures that it's easily found and updated by the Toast team—and Slack messages from Donut mean that new hires can quickly reference critical info whenever it's needed.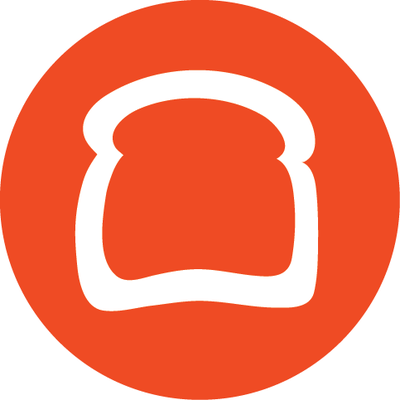 "I used to ask people via email how their week was going, and response rates weren't great. Almost everyone responds to Donut polls so I can get a sense for how things are going."
Emil Sit
Making Remote Offices Feel Included
Welcoming new hires properly during a period of rapid growth is hard, but doing it well and systematically across two offices on two continents is even harder. With an HQ in Boston and a remote office in Dublin, it's easy to see the potential for offices feeling, well, distant.
Toast actively prevents a sense of disconnectedness by applying consistent onboarding practices to both offices and giving employees a chance to learn together. Training seminars are held via Zoom with new hires in the U.S. and Dublin, so that everyone feels like they're part of a unified team. Once new hires in Dublin acclimate to their home office, they're also flown to Boston HQ for a chance to broaden their knowledge and meet teammates face-to-face.
Benefitting from Quick Wins
When building an onboarding process for Toast, Emil's guiding ethos was getting the new hire to be a contributor as soon as possible, and to systematically remove any barriers that stand in the way of that goal. What does that mean in practice? "That can be as simple as making sure every new hire has a computer on Day 1 and accounts on all the systems they need to access (like JIRA or GitHub). It can be as complex as automating the installation of your company's development tools and environment. Start by making a checklist of all the things a new hire needs to do to be successful, and then figure out how to make it so an item isn't needed or can be checked off before the person even starts."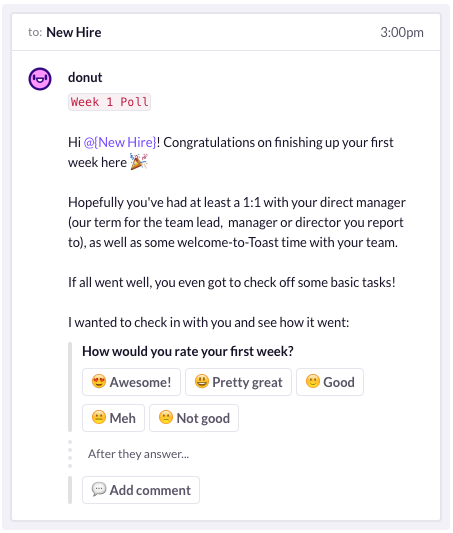 Setting a new hire up for a quick win does more than just ramp them speedily: it's an upfront confidence booster that encourages new engineers to go through all of the key parts of the development process, from editing code to merging. Mindfully choosing and assigning a task is an important part of what makes a quick win effective. Often it's a small bug fix, like one line of code that adds support for handling an error case.
The Playbook, In Short
Ultimately, Toast's engineering onboarding playbook is comprised of a mixture of background information transmitted through automated systems, coupled with direct in-person trainings. Team leads and onboarding buddies help fill in the gaps to get each and every person acclimated to life at Toast and ready to do their best work. The entire process is systematized and documented, so that everyone knows what to expect, and labor is divided between automated systems and people on the team, so that no one person is overburdened and nothing slips through the cracks.
Toast remains dedicated to experimenting with and iterating upon their onboarding playbook. In fact, they've just hired a dedicated person to own and improve the onboarding experience for new hires. Their role encompasses developing and evaluating the success of the program, as well as incorporating feedback to further improve it. That ownership of the onboarding process will be key as Toast scales to the next level.