The Donut team has a soft spot for stories about teams who connect in new, creative ways—we've collected quite a few over the years—and recently, Customer.io brought the game to a whole new level. By amplifying the creativity and generosity of one employee, they were able to create an engaging new program that allows all employees to opt in to give (and receive) a "snail mail" care package with a random buddy each quarter. This is some next-level connection, so we sat down with Sonja Beardsley, VP Operations and Alyssa Welch, People and Culture Specialist at Customer.io to learn more about their team and tight-knit, remote-first culture.
Listen to the conversation between Donut's community lead Alex Schulte, Alyssa, and Sonja, and read our interview below:
**
Tell us about your team before the pandemic hit: how many employees did you have? How many locations or offices? Was anyone remote?
Customer.io has been remote since 2013. We've held an office in Portland, Oregon, but recently downsized to a shared coworking space. We'd been using the Portland office as a shared space with other local startups, but when our lease came up for renewal, we decided to focus exclusively on our remote-first culture.
In January 2020, we had a team size of 65. We currently have 126 employees (we call them Amis) and are continuing to grow. Our team is located globally with employees from 29 countries on six continents including the Americas, Europe, Africa, Asia, and Australia.
What about now, is the team bigger or smaller? Still remote? What types of roles did you add, if you've grown?
Our team has doubled in size since the start of the pandemic, mostly on the engineering, customers, and sales teams. 100% of our Amis are remote and we're globally distributed.
If you're wondering why we call ourselves Amis:
Ami is our mascot, which was designed by Jon Quach in 2014. Ami is modeled after the homing pigeon, a specific breed of bird known for its uncanny ability to find its way home over long distances by detecting magnetic fields and perceiving direction. As a result, they made brilliant messenger or "post" pigeons and were used for message delivery.
Ami is the French word for "friend" with affectionate connotations, though it has roots in all sorts of other languages: Italian amico, Portuguese and Spanish amigo, Catalan and Romanian amic, Sardinian amícu. Also from the Latin amīcus, meaning "friendly, amicable."
How did your team stay connected and build relationships before the pandemic? 
Twice a year, we hold in-person retreats in the fall and spring. Before the pandemic, the whole team was last together in person in Budapest, October 2019. We were planning on getting together in Vermont in April 2020, but we switched to a virtual retreat due to the pandemic. In-person retreats and meet-ups are important to the team to have fun, make personal connections, and charge our trust batteries.
In between retreats, we use tools like Donut to stay connected. If you join the #serendipity channel on Slack, Donut Intros people up every two weeks for a chat. This is a great way to meet new folks and reconnect with those you don't work with regularly.
Pizzatime, Coffeetime, and monthly Sip n' See's are our ways to share a meal or coffee together. (We call them Sip n See's instead of "lunch and learns" since they take place at different times for different regions!) These can be meditation sessions, yoga, learning, or something as fun as Goat 2 Meeting! These monthly activities provide space for people across teams to spend time together.
We also have a monthly book club, water challenges (staying hydrated is no joke!), and numerous fun Slack channels to stay connected. For example:
#our-people is a great way to show off the important people in our team's lives. We've seen images of children, spouses, parents, grandparents, siblings, and friends in this channel.
#our-weekends is a fun and easy way to show what you did that weekend. Whether it was hiking in Yellowstone, running a half marathon, or fishing in Oregon, we see it all in this channel and get to stay connected to what folks are doing outside of work.
#pets is cuteness overload for animal lovers. We love our pets at Customer.io!
Additional channels include #games, #food, #music, #sports, #health, #this-old-house (just to name a few!)
How did you stay connected during the lockdown?
We continued the rituals mentioned above, and the new thing that came out of the pandemic was holding virtual retreats since we couldn't meet up in person. The first virtual retreat in April 2020 was planned a bit last minute, as our scheduled Vermont trip had to be canceled due to the pandemic.
While canceling a much-anticipated trip was disappointing, this format allowed us to create new traditions, like our first-ever baking competition. Contestants baked cookies with our logo on top and an Ami cake (named after our mascot). This was hands down the fan-favorite event! From a makeshift vodka bottle rolling pin to pans flying out apartment windows, you can imagine the entertainment. Baking contests are now a staple of our virtual retreats, and I think we'll need to find a way to compete in person when we're back together.
The pandemic also connected our team around crafting. We have always had artsy folks on the team, and when one of our Product Managers led an embroidery class at our first virtual retreat, it led to craft sessions at the next three virtual retreats. We even added a #crafts Slack channel to stay up to date on everyone's latest projects. In addition to embroidery, we've participated in calligraphy, painting, learning to draw with illustrator Lori Richmond, and macrame.
The one thing we missed most about not being together in person was playing games together. I'm not exaggerating when I say that we are a team that loves our games! At previous in-person retreats, we literally brought suitcases full of board games and would stay up way too late playing together. From all sorts of card games to Exploding Kittens to Codenames to Dutch Blitz, we play them all.
When lockdown first started, we tried playing games virtually, but it didn't feel the same. Then, we decided to purchase Oculus VR headsets for everyone for the October 2020 retreat. That was a game-changer. We were able to play games like Beat Saber, Elven Assassin, Walkabout Mini Golf, Cook-Out, Catan, Superhot, and Demeo together and actually feel like we were together. Oculus has now become a staple at the company, with every new employee receiving their own headset when they start, and a standing game time across multiple time zones once a month. At the last few virtual retreats, we've even had VR game tournaments for Beat Saber, PokerVR, Elven Assassin, Walkabout Mini Golf, and Catan – can you tell we like some friendly competition?
How are you working together now that things are opening back up?
We are planning on having a full-team in-person retreat this coming April 2022 in Athens, Greece! Our sales and marketing team already got together in Stowe, Vermont in August 2021. (It was more manageable for this team to get together in person, as they were all located in the US with similar vaccination schedules and COVID travel regulations). Other teams with employees across multiple countries have had virtual team meetups. We're currently limiting travel to fully vaccinated groups and following CDC guidelines for nonessential travel.
In the meantime, we continue to hold our Sip n See's, play Oculus VR together, and bond through Slack and Zoom meetings like our biweekly company team meetings.
Let's talk more about connection: any fun Donut stories, rituals, or tips? I heard that you had a pretty special tradition…
(PSA: if you're not already using Donut, you can add it to Slack with one click.)

As new team members get onboarded at Customer.io, they are encouraged to send a Welcome Campaign about themselves so we can get to know them! One of our new hires' campaigns included a game: two truths and a lie with some fun facts about herself! She promised a gift of local Portuguese treats to the first person that shared the right answer on Slack. Kate in Colorado, USA was excited to get Rita's package of goodies from Portugal, and so the idea of Ami Post was born! Channel members are Introduced in groups of two once a quarter, and each member sends the other a package of goods from their local area.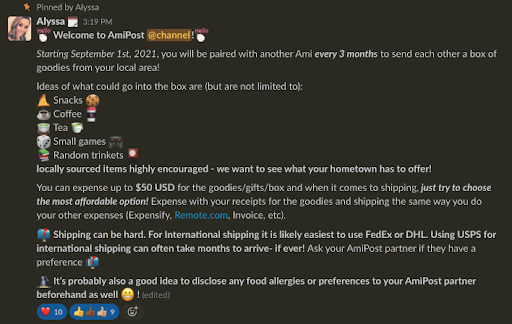 "We kicked off our first Ami Post this past September with 50 employees participating. Donut made it possible to automatically Intro folks in the #ami-post Slack channel. It's been so fun to watch Ami's share their favorite goodies from their hometown to Ami's in other cities and countries."
Alyssa Welch
Customer.io, People & Culture
In addition to using Donut for Ami Post and biweekly Donut Chats, we also use Donut for our allyship pairings and new hire meet n' greets.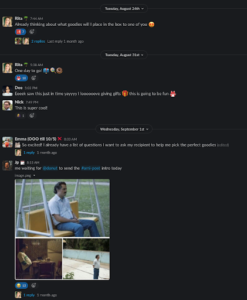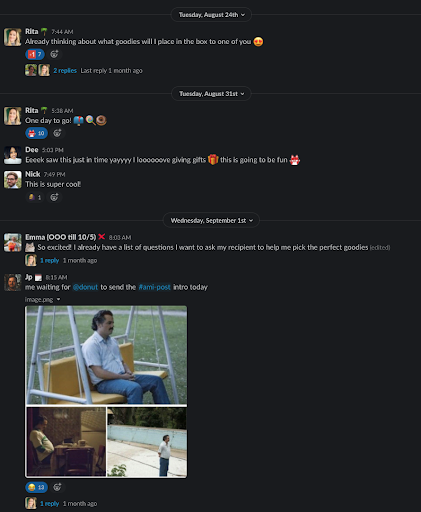 Donut has been a great tool for welcoming new hires to the team and sending them onboarding messages in their own time zones. Donut sends each new hire fun facts about the company, Slack tips and tricks, and notifies them of upcoming meetings with the Operations team (and what to expect)! We built some polls through Donut to gauge how the onboarding experience is going and how they are feeling so far. We also use the Onboarding tool to send automated reminders to our Operation team starting, up to 2 weeks prior to an employee's start date.
***
Customer.io is a messaging platform that allows marketers to take an idea and turn it into a powerful automated message campaign. The world never stops growing and changing, and neither should your data. Our powerful logic based tools help you capture every edge case and connect to the real people in your audience. Built for flexibility, designed for usability, and affordable for everyone.