It's beginning to look a lot like the most wonderful time of the year (or so we hear). While we're not all able to be together like we hoped, there are endless opportunities to celebrate a year of growth, and to create new connections from near or far. Here are some of our favorite new remote holiday rituals, sourced directly from our incredible community!
Looking for new ways to celebrate with your team? Try Donut for free.

Reimagine a favorite shared experience
Back in the "before times," we used to look forward to the office kitchen filling up with homemade cookies and other delicious baked goods around this time of year. Cookie bake-offs and other festive activities were a beloved part of the December landscape, and now that we're celebrating our second end-of-year working as a distributed team, we miss them. That's why we loved this creative remote holiday idea, courtesy of our creative customers: the virtual cookie decorating bash.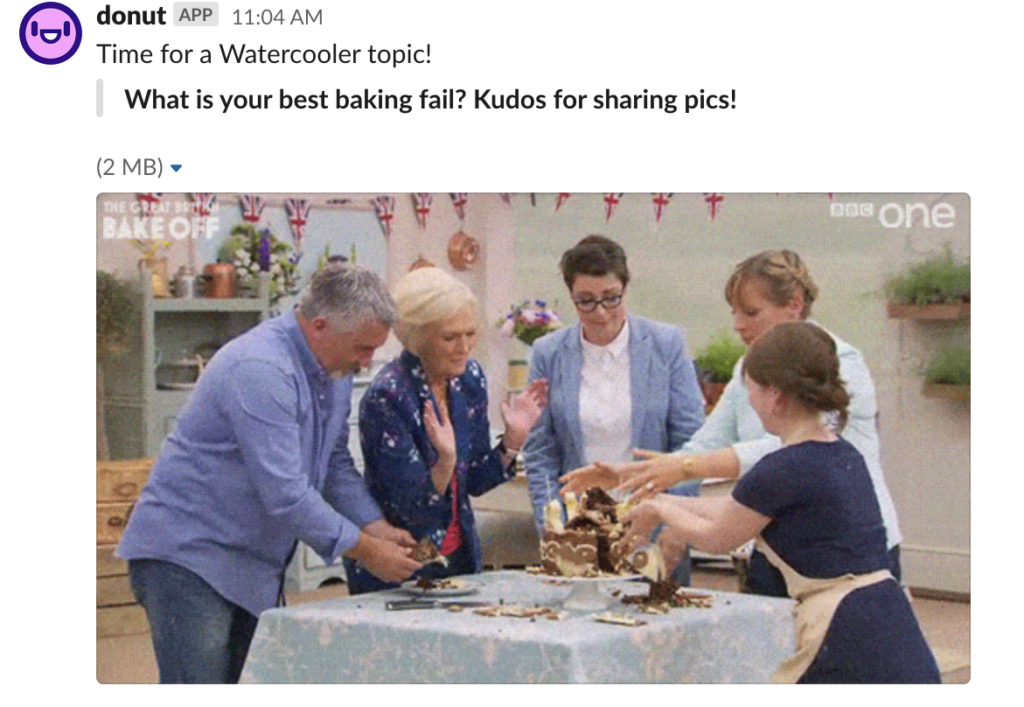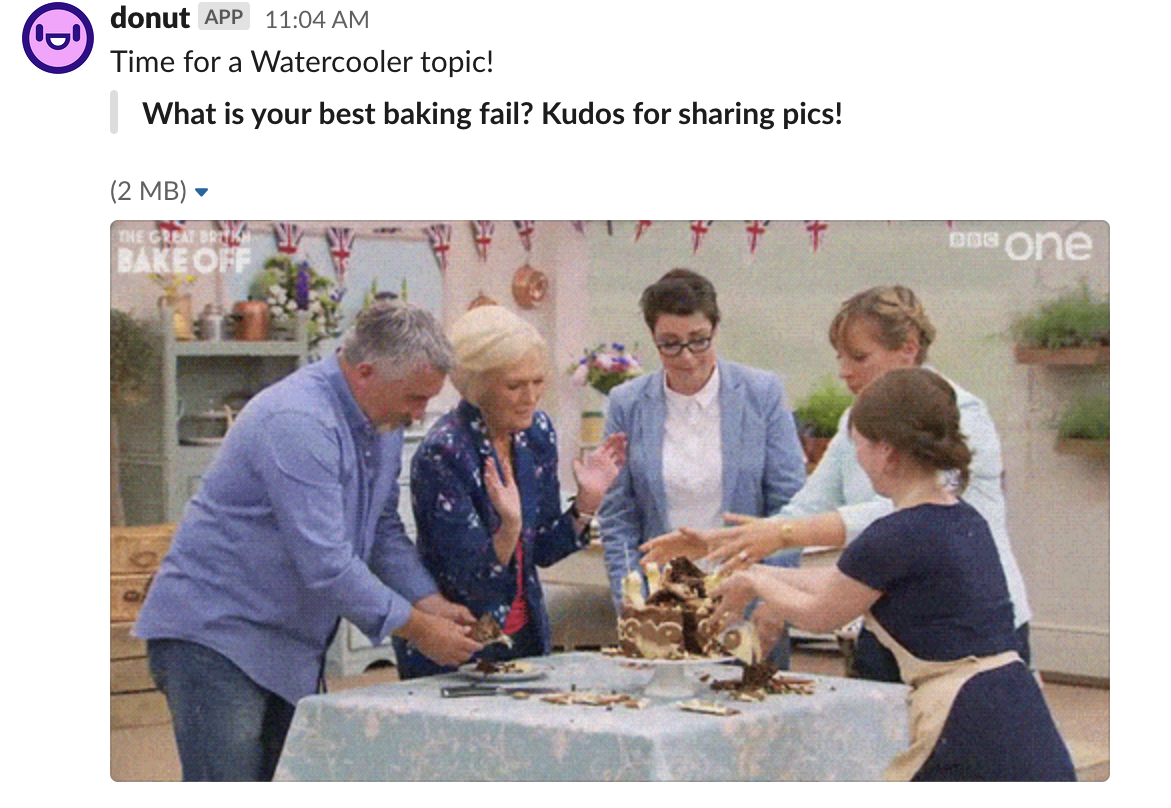 Cookie decorating is a perfect candidate for a monthly company social activity—especially in December.  One of our customers gave all employees the option to sign up for the event, and participants were each sent a kit with sugar cookies and frosting. They hyped up the event in their #holiday-cookie-decorating-social channel and used Donut Watercooler to send holiday- and dessert-themed conversation topics leading up to the event. On the day of, folks were broken into small groups via Zoom to socialize and decorate virtually. Donut then prompted everyone to share a cookie-making selfie afterward!

Gift-giving to foster remote holiday connections
You know that warm and fuzzy feeling you get when you watch someone open a gift you got them? What about the excitement right before you tear open a package curated just for you? Gift-giving is one of the most fun ways to express care and create a shared experience, and it can bring your team closer together!
Especially with many teams working remotely nowadays, care package programs can be an interactive and thoughtful way to stay connected over far distances during the end-of-year remote holiday celebrations. When our friends over at Customer.io learned about an employee-led care package swap, they decided to expand the gift-giving for anyone who wants to participate! To make the random gift swap buddy matches, they came up with the creative idea to use Donut Intros to coordinate a care package swapping program. Once paired, each person gathers and sends a box of their favorite local goodies to the other. (Want to learn more about Donut Intros? Click here)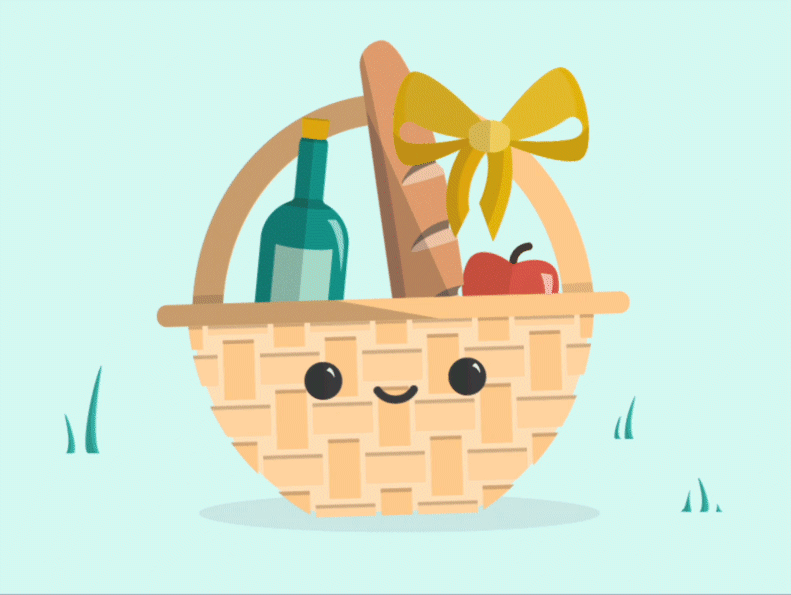 Whether it's a box full of sweets you'll regret finishing so fast or a nifty souvenir that you couldn't get anywhere else, customized care packages are a tangible way to bridge the distance and create closer bonds this holiday season.
Outdoor get-togethers for local hybrid teams
When one of our non-NYC-based Donut teammates mentioned an upcoming December trip in our #park-meetup-nyc channel, we quickly started buzzing about possible outdoor meetups that could bring NY-adjacent folks together. The event snowballed (bad pun intended) into an afternoon of ice skating, hot cocoa, impromptu lessons, and epic selfies!
Whether folks were skating or chit-chatting, it was a special day for the team: many of us had never before met in person. In fact, it was Donut's largest-ever in-person meetup, since so many of our team members started at the company after we went fully remote in March 2020!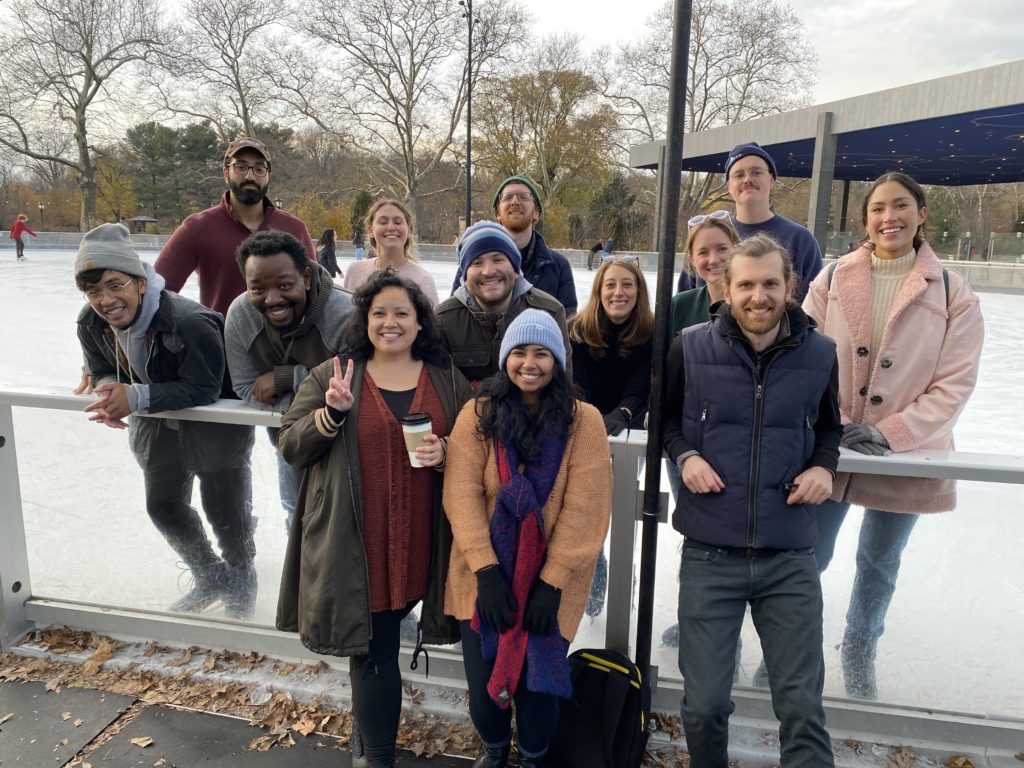 This was a continuation of our localized #park-meetup culture program, which is one of our hybrid work explorations from 2021. Overall, the event was a success, and it's made us more hopeful about a potential full-company get-together in the new year (our first since 2020)!
Remote holiday lightning round: Seven end-of-year social ideas to bring your team closer
BYO Zoom Background
Try wacky, nostalgic, or otherwise memorable holiday-related backgrounds for your end-of-year video calls. Go around the Zoom meeting and let everyone who wants to share tell a story about their background and why they picked it.
Holiday Cards, Meet Selfie Contest
Encourage your team to take "holiday card" style pictures and share them in a social Slack channel as part of a holiday card selfie contest – bonus points if you set a theme! The picture with the most emoji-reactions wins.
Snow & Tell
Ask everyone to bring an object representing something they're proud of from the past year, and do an end-of-year show and tell session!
Silly Sweaters (and beyond!)
Itching to bust out your wackiest sweater, accessories, makeup, or festive home decorations? Pick a Wacky Winter Wednesday for your team to show off their style and vent some end-of-year zany energy.
Yearbook Notes
What would you like to say to the past year? Take a page out of your former self's yearbook and write 2021 a message. Whether you're writing "LYLAS" (love you like a sibling), "thanks for the memories," or "I'm sorry, I can't, don't hate me," it can be a cathartic—and funny—way to leave this year in the past and start 2022 with a clean slate.
Year's Best Lists
Do you have affinity-based channels? Whether it's in #foodies, #movies, #running, #tunes, or another social space, you can encourage folks to share their top 10 lists from the past year. It's fun to reminisce together, and you may come away with some new ideas!
Gratitude Is Always in Season
Take a moment to encourage your team to reflect on something they're grateful for, and create space to share that sentiment with the team. Taking time to think about what we're thankful for makes us happier and more connected, and sharing gratitude publicly creates a space where vulnerability and care are celebrated. Sounds like a great way to end the year to us!
***
What are you doing to celebrate the end of the year with your team? Tweet at us @donut or email [email protected] if you'd like to share your EOY rituals!