Doing remote work "right" can feel like a daunting challenge, especially for teams that have historically worked out of shared office spaces. As the pandemic upended their usual, colocated way of working, the Axios team knew that their existing processes and playbooks for remote staff would be a great jumping-off point for their first fully remote People strategy. Axios turned to their guiding principles and their "audience first" value became a mantra applied inwards: they would rethink their remote work processes and extend new programs from a people-first perspective. Donut chatted with Morgan Stanley, Associate Director, Talent Management at Axios to learn about how they used a feedback loop to craft and evolve their fully remote culture and practices.
People-First, Always
A key insight that drove the Axios People Team in the early days of COVID was the awareness that people were not working from home – they were at home, trying to work. Their first step in planning for this new reality was to understand what resources employees would need to be happy and healthy, and maintain connections to their team and the company as a whole.
The People team spent the first few months of shelter-in-place meeting 1:1 with each employee over Zoom. Understanding that everyone was having a different COVID experience, these conversations illuminated the range of experiences within the organization—from caretakers, to urban dwellers who were not able to leave their small spaces, to remote work veterans—and built empathy for employees. A focus on employee mental health and wellbeing became the priority, and informed the programs and resources that Axios made available. This included improved, tech-enabled check ins using Allie Bot for Slack, virtual workout sessions, various 'Fun Friday' virtual events, as well as a monthly stipend for resources to make the quarantined WFH experience better (running the gamut from a more ergonomic desk chair, to some new running shoes to stay physically healthy, to mental health copay coverage). They also tapped a few of their veteran remote employees to lead a panel discussion on tips and tricks for working remotely! 
Recreating the Watercooler
Understanding that employees missed the human interactions in the office, the People team focused on virtual ways to build collegiality. The Axios team used Donut to connect folks for coffees while working in the office, and this tradition became even more important once everyone started working from home. Morgan says that Donut has helped recreate some of the serendipitous employee interactions that would normally occur in an office space around the watercooler areas (in Axios' case, "Snaxios" for snacking and "Relaxios" for comfy seating).
The Axios team was able to create a remote work environment that provided support, structure, access, and resources that not only had parity with their co-located workplace, but also improved its personalization and documentation. Given the steep growth path ahead, they also emphasized the need for keeping human connection front and center when transitioning to remote onboarding.
Building a Remote-First Onboarding Experience
Axios has continued growing through COVID-19, leading them to think proactively about codifying and strengthening the existing remote culture, as well as how they bring new people into the fold and uphold their values through that process.
The People team took a look at the hiring and onboarding experiences to ensure that the process was seamless, human, and effective for long-term success in the organization. Their initial takeaway? Understanding the business and building critical relationships were more difficult and less effective when interviewing and onboarding remotely. Candidates aren't meeting people in person anymore due to COVID-19 and likely won't meet people in person as they transition into Axios which can lead to onboarding challenges down the road. In addition, as we all know, the opportunity for chance encounters and non-work-related banter that easily occurs in an office can be difficult to replicate digitally, and the Axios team found that while Slack was great for quick exchanges, the medium didn't always encourage getting to know someone and their work in a more meaningful way.
A key differentiator for Axios during this time came from the work they've been doing for the past year to tailor the onboarding experience at a department level. For example, sellers and client success teams need a very different onboarding experience than journalists or engineers. Having defined, employee-driven processes helped set them up for success in a remote world where documentation is everything. Because they had the building blocks in place for a tailored experience, the People team was able to hit the ground running, creating an onboarding journey map with each team's leadership. The maps would include crucial information, like which key stakeholders new hires needed to meet (and why, and when), measurable objectives and skills to demonstrate success in the role, and timing to ensure new hires were on track.
Putting it into action
After the major undertaking of defining and rolling out these new processes, the Axios People team seized the opportunity to make the process even more streamlined, consistent, and equitable with Donut. 
For some teams, everything an employee needed to know in the first few weeks was distilled into a Google Sheet. This put the onus on employees to take responsibility for their own onboarding journey or required the manager to spend a great deal of time scheduling 1:1s and meetings; the transition to Donut helped lighten that load. Being a new hire is hard, and it's harder in a pandemic when your teammate isn't next to you; those little learning moments that come from sitting next to someone make a big difference. Morgan and her team were able to take these new frameworks and put them into Donut so the process would run itself, from 14 days before a new hire's start to 90 days after. Not only does this take the burden off the new hire to successfully navigate their new environment, but it also enables the People team and managers to run an onboarding process that is helpful and worthy of their new employee's time.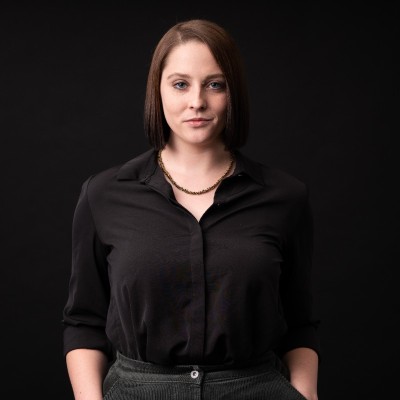 "Having someone you can go to from day one to ask those silly questions, knowing there's a person there for you matters. Donut's buddy system is a great way for people to have friends off the bat."
Morgan Stanley
Axios, Associate Director, Talent Management
Additionally, everyone on the team is invited to help welcome and educate new hires.  Peers within a new hire's department are assigned as buddies by Donut, and expected to provide cultural education as well as guidance around the team's operation. Managers provide a list of key stakeholders for knowledge sharing and company context, and Donut sets up introductions over the first two weeks. All other team members receive reminders to set up 1:1 virtual coffees or learning sessions with the new hire.
Beyond the immediate team, new hires are encouraged to participate in random Donut pairings in the #general channel, to meet people outside of their department or function. Axios is still a startup, so many people work between multiple departments, and need to have a connection to someone else on a different team. 
***
While so much is still in flux, the Axios team has taken major steps towards understanding, documenting, and upleveling what makes their culture tick. They have stepped up to a challenging moment and met it with care and empathy for current and future employees. Morgan summarized the team's outlook, telling us: 
"'Audience first' is a core value at Axios, and for my team our audience is our people. Without them we have nothing! So it is critical that we invest in them. Our main priority is making sure our folks have access to what they need to succeed and that we make Axios a great place to work."
As they continue to grow, new hires and tenured employees alike have a tremendous advantage working on a team that has been so thoughtful about the People experience, creating processes and programs to put employees first.